Rutte Urges End to EU Practice of Same Job, Different Pay
By
Dutch premier says citizens must see benefits from trade rules

Rutte speaks at Bloomberg Global Business Forum in New York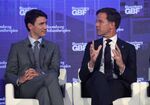 Dutch Prime Minister Mark Rutte backed calls for action to prevent workers in the European Union from earning different levels of pay for the same jobs, stressing the need to ensure citizens reap benefits from international trade rules.
Rutte, who heads a caretaker government, told the Bloomberg Global Business Forum in New York on Wednesday that trade rules must be "free and fair." Rutte was responding to a question from panel moderator Christine Lagarde, managing director of the International Monetary Fund, on how to promote inclusion in trade pacts.
Rutte said governments must "prevent, like you see sometimes in the European Union, that people in the same place, for the same jobs, get different pay. This cannot happen, you need to have a system in which you have for the same type of jobs, the same type of pay in the same type of circumstances."
A new Dutch government has yet to be formed, more than 185 days after general elections in March. Rutte's party won the biggest share of that vote, emerging as a barrier to the spread of populism on the continent after warning of the economic chaos that could ensue.
Rutte's call follows one by Jean-Claude Juncker, president of the European Commission, who said in his State of the Union speech on Sept. 13 that there should be equal pay for so-called posted workers. He also backed the creation of an EU labor authority. French President Emmanuel Macron is campaigning to end the "social dumping" of workers from low-wage countries being hired in other EU nations at their own pay levels for extended periods.
'Trade is Necessary'
Rutte said his country had managed to keep income inequalities within levels "which are acceptable to society." This helps "to create a sort of environment in which people will accept that trade is necessary. We earn our money by trading," Rutte said.
Lagarde remarked that "historically, you invented globalization." Rutte replied: "Yes, I think that we are one of two or three -- with Hong Kong I believe -- the most internationally connected economy. For us it is our lifeline, it is jobs, security, the future but still people can be worried."
The Dutch leader said he would change his country's pension system "to maintain it for the future."
"We are increasing the pension age to about 67, then it will follow the life expectancy, it will go up to 68 and maybe even higher, just to keep the whole pension system viable," he added.
Before it's here, it's on the Bloomberg Terminal.
LEARN MORE