Merkel Steps Up Anti-Populist Warning as Polls Show Fringe Gains
By and
Turnout is German election factor as candidates get out vote

SPD's Schulz sees undecided pool for Sunday's national ballot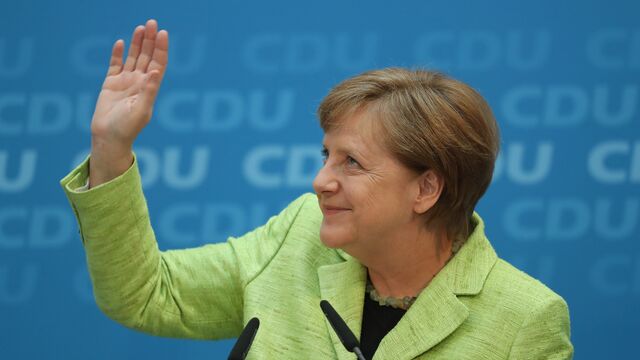 Chancellor Angela Merkel urged German voters to stand up against the anti-immigration Alternative for Germany in Sunday's national election, as polls suggest support for her own party is slipping.
Merkel, who's seeking a fourth term after 12 years in office, is stepping up her get-out-the-vote effort with a late flurry of campaign stops and media appearances. On Thursday, she was asked to respond in a radio interview to the rise of Alternative for Germany, or AfD, which vilifies Merkel for Germany's refugee influx and is poised to become the first far-right party to enter the national parliament since World War II.
For an interactive look at German coalition options, click here.
"We have to stand up for our fundamental values," Merkel told ARD Jugendradio, which broadcasts shows for young people. "Go out and vote -- and vote for the parties that are 100 percent committed to our constitution."
Merkel and her main opponent, Social Democrat Martin Schulz, are making their final campaign pushes as polls suggest a voter drift to fringe parties such as the AfD and, to a lesser extent, the anti-capitalist Left. Also in the race for third place are the pro-market Free Democratic Party, a traditional ally of Merkel's Christian Democrat-led bloc that's poised to re-enter the Bundestag on Sept. 24 after a four-year absence.
Support for Merkel's Christian Democratic Union and her Bavarian CSU allies slid to 36 percent compared with 40 percent in early August, according to a weekly Forsa poll published Tuesday. The poll had the Social Democrats steady at 23 percent. The AfD, FDP, the Greens and the anti-capitalist Left party polled between 8 percent and 10 percent each.
Six-Way Split
With six parties expected to win seats in parliament compared with four in the last election in 2013, forming a governing coalition may well be more difficult this time.
That six-way split is adding urgency to the main two candidates' efforts to mobilize their base, including Merkel at a campaign stop in Hamburg late Wednesday.
"This will depend on every vote," she told supporters at a waterside warehouse in the port city, Germany's second-biggest. "We're living in uneasy times and we can't afford any experiments -- and for this we need stability and security and a clear path."
Schulz campaigned in Germany's industrial heartland on Wednesday and used a rally speech to slam a proposed steel merger that threatens thousands of jobs. He said there were enough undecided voters that his party still had a chance.
"All experience in national and international election campaigns teach us that the number of undecideds is ever increasing -- so everything is possible," Schulz told broadcaster RTL in an interview. "I do believe that we'll indeed have a last-minute swing."
Before it's here, it's on the Bloomberg Terminal.
LEARN MORE