May Says U.K. to Withhold Part of Funding If UN Doesn't Reform
By and
U.K. to set aside part of contribution based on performance

British premier addresses UN General Assembly in New York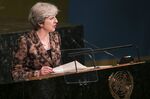 Prime Minister Theresa May said the U.K. will withhold part of its funding to the United Nations unless it delivers reforms.
Britain will set aside 30 million pounds ($40.5 million) of its 90 million-pound membership fee which it will only pay to those parts of the organization it judges to have achieved "sufficient results," May told the UN General Assembly in New York on Wednesday.
"The UN and its agencies must win our trust by proving to us and the people we represent that they can deliver," May said. "We will remain generous in our funding but set aside 30 percent to be paid only to those parts of the UN that achieve sufficient results."
May's threat to withhold funding echoes a call for reform made by the Secretary-General Antonio Guterres, who is pushing for overhaul of some of the organization's troubled peacekeeping programs. Tests that will need to be met before U.K. funding is released include centralizing UN operations in each country and improvements in transparency, including the UN publishing its expenditures, according to May's office.
The British leader's attendance at the annual gathering of heads of state has been largely overshadowed by political strife at home, sparked by her Foreign Secretary, Boris Johnson, who is attending the General Assembly with her, threatening to resign over the government's handling of Brexit.
Her address also included veiled criticism of President Donald Trump's rejection of the Paris climate accord. She singled the Paris agreement out as one of components of the "rules-based system" enabling countries to cooperate to protect their shared values.
The U.K. will this year contribute 90 million pounds to the U.N.'s regular budget of $2.7 billion, 2 billion pounds in voluntary contributions, and 700 peacekeepers.
Before it's here, it's on the Bloomberg Terminal.
LEARN MORE