Jimmy Kimmel Spat Shows Confusion Over Rushed Health Bill's Effects
By and
TV comedian says senator 'lied' about 'Jimmy Kimmel test'

GOP senators' bill ends guarantee sick people won't pay more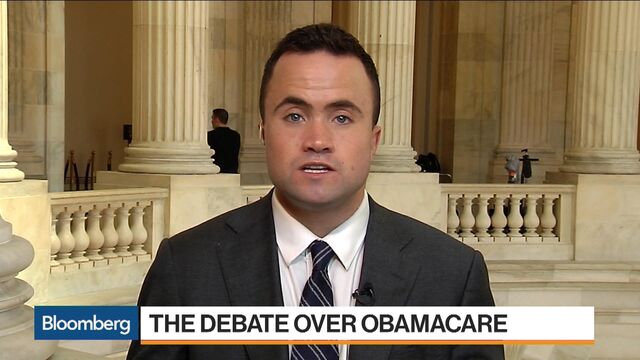 The public dispute between TV comedian Jimmy Kimmel and Senate sponsors of a plan to replace Obamacare underscores how little is known about changes the last-ditch proposal would bring to U.S. health care.
The proposal would end the Affordable Care Act's guarantee that people with pre-existing medical conditions can't be charged more for insurance -- though the measure's sponsors say they would still be protected. The rush to pass the bill before a Sept. 30 deadline leaves little time to sort it out.
Kimmel -- who made a tearful plea for affordable health care for everyone after his infant son underwent open-heart surgery in April -- unleashed a verbal assault Tuesday night on the new measure's co-sponsor, Bill Cassidy. The Louisiana senator had said earlier on Kimmel's ABC show that any health bill should pass a "Jimmy Kimmel test."
"It seemed like he was being honest" when he was on the show earlier, Kimmel said Tuesday, contending the new proposal wouldn't protect people with pre-existing conditions. "Bill Cassidy just lied to my face."
Before Obamacare went into law, it was difficult for sick people to get coverage in the individual insurance market. Insurers could charge them higher premiums or deny them coverage entirely for a wide range of conditions such as asthma and cancer. Republicans have promised for months that their replacement plan won't harm those people.
QuickTake Q&A: What's in Last Republican Shot to Kill Obamacare
President Donald Trump told reporters in New York on Wednesday there's a "very good chance" the bill will pass.
Senate Majority Leader Mitch McConnell of Kentucky intends to hold a floor vote next week, according to a statement from his office. A day earlier, he had refused to promise a vote amid doubts about whether it has the 50 Republican votes it needs to pass. The GOP suffered an embarrassing defeat with its last repeal bill in July.
Second-ranking Senate Democrat Dick Durbin of Illinois told reporters McConnell's statement is "an indication he believes he has the votes" and that there is alarm among Democrats.
America's Health Insurance Plans, the industry's main lobbying group, said in a letter Wednesday it won't back the bill because its effects on the market would include "pulling back on protections for pre-existing conditions." The American Medical Association and senior citizens' group AARP announced their opposition to the measure Tuesday.
Cassidy said Wednesday that the proposal he's co-sponsoring with Senator Lindsey Graham of South Carolina is a "a guarantee" that protects people and meets the "Jimmy Kimmel test."
'Liberal' Slant
"We have protections for pre-existing conditions," Cassidy said in an interview. Graham said Kimmel was falling for "liberal talking points."
"We're going to give flexibility to cover sick people, but sick people will be covered," Graham said. "We'll have 50 different ways to deal with people who've been sick, not just one bureaucratic way."

The bill would let states get a waiver allowing insurers to charge people more if they or a dependent have a pre-existing condition, or if they get sick and want to keep their insurance. Cassidy said the states would have to "ensure that people applying for pre-existing conditions would have access to adequate and affordable coverage."
The language in the bill, though, says waivers must include "how the state intends to maintain access to adequate and affordable health insurance coverage for individuals with pre-existing conditions if such waiver is approved." That doesn't necessarily preclude higher costs or skimpier coverage.
'Paper' Promise
Larry Levitt, a senior vice president with the nonpartisan Kaiser Family Foundation, described that as a "very weak requirement" because the U.S. Health and Human Services secretary may be compelled to approve such a waiver. "There would be access to coverage for people with pre-existing conditions on paper, but not really in practice," he said.
"In this world, there's no assurance that a person with pre-existing conditions is going to get coverage," said Dan Mendelson, the president of consulting firm Avalere. "That's the bottom line."
Ohio Governor John Kasich, a Republican, faulted his party for developing the health plan without working with Democrats. He also said the effects of the plan are unclear.
"There isn't anybody that knows what all the details are or what all the impacts are," Kasich told Bloomberg Television.
Trump, however, seems certain about the bill's provisions.
"I would not sign Graham-Cassidy if it did not include coverage of pre-existing conditions. It does! A great Bill," the president wrote on Twitter later Wednesday evening.
Blue Cross
The Blue Cross Blue Shield Association joined the fray Wednesday, issuing a statement saying it has "significant concerns" about the Graham-Cassidy bill, which it said would "undermine safeguards for those with pre-existing medical conditions" and make coverage more expensive.
The bill also would let states eliminate benefits mandated by Obamacare, such as prescription drugs, hospitalization and maternity care.
The Senate needs to vote by Sept. 30 to use a fast-track procedure that prevents Democrats from blocking the proposal, but the deadline doesn't leave enough time to get a full analysis of the bill's effects from the Congressional Budget Office. The CBO said it will offer a partial assessment of the measure early next week, but it won't have estimates of its effects on health-insurance coverage or premiums for at least several weeks.
Former President Barack Obama said Wednesday it is aggravating "when I see people trying to undo that progress for the 50th or 60th time with bills that would raise costs or reduce coverage or roll back coverage for older Americans or those with pre-existing conditions."
"All of this being done without any demonstrable economic or actuarial or plain common sense rationale -- it frustrates," Obama said at a Bill & Melinda Gates Foundation event in New York City.
Trump said that whether or not the bill passes, "at some point the Senate is going to be forced to make a deal."
"I thought when I won I would go to the Oval Office, sit down at my desk and there would be a health-care bill on my desk, to be honest," the president said. "And it hasn't worked out that way. I think a lot of Republicans are embarrassed by it."
— With assistance by Krista Gmelich, Sahil Kapur, Justin Sink, Laura Litvan, and Margaret Talev
Before it's here, it's on the Bloomberg Terminal.
LEARN MORE