North Korea Says Trump's Threat Akin to 'Sound of a Dog Barking'
By and
Japan's Abe says Kim worse than any dictator since Cold War

Now isn't the time for dialogue with North Korea, Abe says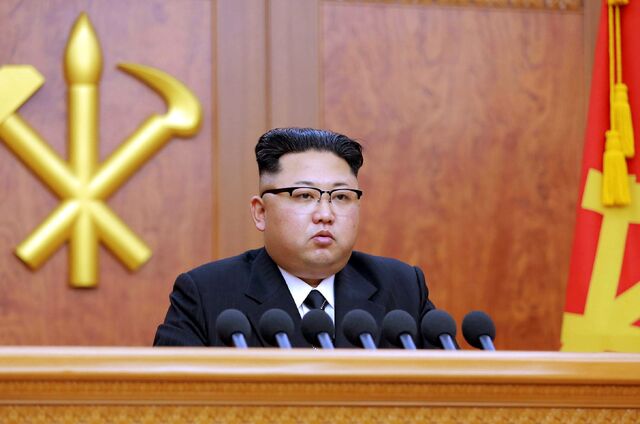 North Korea's foreign minister ridiculed U.S. President Donald Trump's threat to annihilate the isolated state, saying his warning was akin to the sound of a barking dog.
"If he was thinking he could scare us with the sound of a dog barking, that's really a dog dream," Ri Yong Ho said in televised comments to reporters Wednesday in New York, where he is attending the United Nations General Assembly.
Ri was speaking a day after Trump marked his debut speech at the assembly by referring to North Korean leader Kim Jong Un as "Rocket Man" and threatening to "totally destroy" the country if it attacks the U.S. or its allies. Ri said he felt "sorry for his aides" when asked about the moniker.
U.S. Vice President Mike Pence reiterated Trump's message on Thursday, telling CBS News, "The possession of nuclear weapons and ballistic missiles in the hands of a regime that routinely threatens the people of the United States of America and our allies is just simply unacceptable."
Trump has been clear that "in the event that North Korea takes action that threatens the United States or our allies, that our response will be overwhelming and effective," Pence said. "We have military options but we earnestly desire a peaceable outcome."


Japanese Prime Minister Shinzo Abe also joined in the war of words, using his speech Wednesday at the UN to step up his already harsh rhetoric against North Korea. The premier said Kim was getting away with worse behavior than any dictator since the end of the Cold War.
Abe called for pressure on the regime, rather than talks, and again backed Trump's vow to keep all options on the table for dealing with Pyongyang. The Japanese leader has seen his approval rating climb over his handling of Kim's threats, and will make a decision on calling a snap election when he returns home.
Abe said more than a decade of talks with North Korea had yielded only the realization the country never intends to give up its weapons programs. He accused the regime of swindling Japan and other countries out of aid money and urged the international community to follow through on strict sanctions.
"Whether we can stop North Korean provocations depends on the international community working together," he said. "There is not much time left."
"North Korea is attempting to dismiss with a smirk the efforts towards disarmament we have assiduously undertaken over the years," Abe added. "The non-proliferation regime is about to suffer a serious blow from its most confident disrupter ever."
Read more: North Korea Sanctions Claim Another Victim: China's Rust Belt
China and Russia have called for talks with North Korea, while backing progressively stronger UN sanctions. South Korean President Moon Jae-in has repeatedly called on North Korea to enter into dialogue over its nuclear program.
South Korea's inter-Korean cooperation committee on Thursday approved $8 million in humanitarian aid to North Korea, marking a resumption of support through UN organizations after it was ended in December 2015. The country's Unification Ministry said the aid is a separate matter to the political situation on the Korean peninsula.
Thursday will also be a busy day of diplomatic action in New York. Trump has summits with both Abe and Moon separately, and the three leaders will also hold a meeting together. Moon is also scheduled to address the UN General Assembly.
Pence and Chinese Foreign Minister Wang Yi "reaffirmed the importance of robust enforcement of United Nations Security Council resolutions, and taking additional steps in response to North Korea's defiant behavior," the White House said late Wednesday in a statement after they met.
— With assistance by Greg Sullivan, Jackie Edwards, and Shinhye Kang
Before it's here, it's on the Bloomberg Terminal.
LEARN MORE