Iranian President Blasts U.S. Effort to Change Nuclear Deal
By and
Rouhani says 'rogue' newcomer Trump shouldn't undo agreement

Trump says he's already made up his mind on the accord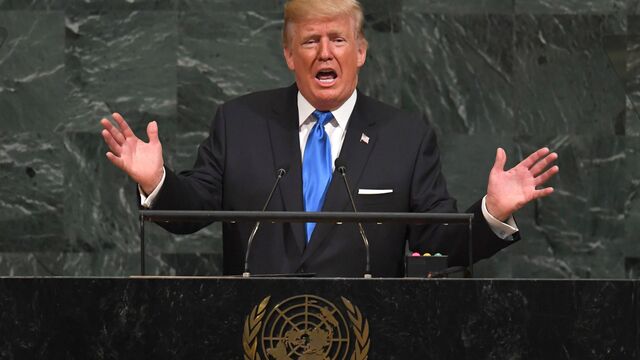 Iran's President Hassan Rouhani rejected any U.S.-led effort to alter the 2015 nuclear agreement that President Donald Trump has labeled "the worst deal ever" and signaled he may walk away from, a move the Islamic Republic's leader said would only damage U.S. credibility.
Iran "will not be the first country to violate the agreement, but it will respond decisively and resolutely to its violation by any party," Rouhani told world leaders at the United Nations General Assembly in New York on Wednesday. The deal "belongs to the international community in its entirety, and not to only one or two countries."
In his inaugural speech to the UN Tuesday, Trump called the Iranian nuclear deal negotiated by his predecessor Barack Obama "an embarrassment to the United States" that should be revisited. On Wednesday, he said "I have decided" whether the U.S. will continue to abide by the deal, but he declined to elaborate. Trump has until Oct. 15 to certify Iran's compliance with the accord to Congress, a decision he's required to make every 90 days.
"The nuclear agreement is working, it is delivering, it is functioning." said Federica Mogherini, EU's foreign policy chief after a meeting of the countries that are responsible to the 2015 nuclear deal. With "a nuclear threat coming from a different part of the world, the international community cannot afford dismantling an agreement that is working and delivering."
Welcoming Investment

While Iran's hard-liners had pushed for Rouhani to deliver a strong rebuttal, he remained "very tame" and emphasized "moderation and Iran being open for business," said Dina Esfandiary, a fellow at the Centre for Science and Security Studies at King's College London. His goal "was to appear as the polar opposite of Trump and in that sense he managed." 
Trump's speech was "very combative, accusatory, strong and focused on America being closed in on itself," while Rouhani underlined that his country would remain committed to the nuclear deal and to making Iran's economy more attractive to foreign companies and investment, she said.
U.S. Secretary of State Rex Tillerson and U.S. Ambassador to the UN Nikki Haley took part in the meeting between Iran foreign minister Mohammad Javad Zarif and the other foreign ministers. The Trump administration has raised the possibility of reopening the deal -- or adding to it through separate restrictions on Iran.
But Rouhani told reporters the deal can't be "amended or changed."
"Iran rejects any renegotiation of the deal," Rouhani said at a press conference after his UN address. "If anyone exits the agreement it means our hand is completely open to take any action we see beneficial for us."
Germany and the five permanent Security Council members -- China, France, Russia, the U.K. and the U.S. -- negotiated the agreement to curb Iran's nuclear program in return for removing some economic sanctions. All parties to the deal except the U.S. are proponents of maintaining an agreement they say is working. U.S. critics of the accord are focused on Iran's continuing ballistic-missile program as well as sunset provisions in the deal that, starting in 2025, ease restrictions on uranium enrichment.
'Ignorant, Absurd'
Rouhani said Trump's UN address was "ignorant, absurd and hateful rhetoric, filled with ridiculously baseless allegations."
He defended Iran's ballistic-missile program as a defensive measure by a nation surrounded by enemies in the volatile Middle East. And he pointed to Trump's lack of political experience in challenging the accord.
"It will be a great pity if this agreement were to be destroyed by 'rogue' newcomers to the world of politics," Rouhani said. "The world will have lost a great opportunity."
Overall, though, Rouhani delivered a "diplomatic speech that emphasized the importance of multilateral institutions and multilateral agreements," said Amir Handjani, a senior fellow at the Atlantic Council.
But neither Rouhani's speech nor Trump's will "make much difference in the long run on the survival" of the nuclear deal, said Handjani. "The battle lines for those who want to keep the deal and those who want to get out of the deal are already drawn."
Before it's here, it's on the Bloomberg Terminal.
LEARN MORE