Photographer: Joshua Roberts/Bloomberg
Five Things You Need to Know to Start Your Day
Get caught up on what's moving markets in Asia.
By
Want to receive this post in your inbox every morning? Sign up here.
Fed eyes another hike this year, Bank of Japan up next, and a rough day for Apple. Here are some of the things people in markets are talking about.
Shrinkage
The Federal Reserve announced it will begin reducing its balance sheet, which swelled to $4.5 trillion amid unconventional measures deployed following the financial crisis, in October. Officials believe the hurricanes that have battered parts of the U.S. will have a temporary effect on activity. The dot plot showed that most policymakers believe it will be appropriate to hike rates again this year, with only four officials wanting to maintain the current policy rate through year-end, the same number as in June. During a press conference, Chair Janet Yellen deemed the persistent shortfall of inflation from its 2-percent target to be a "mystery."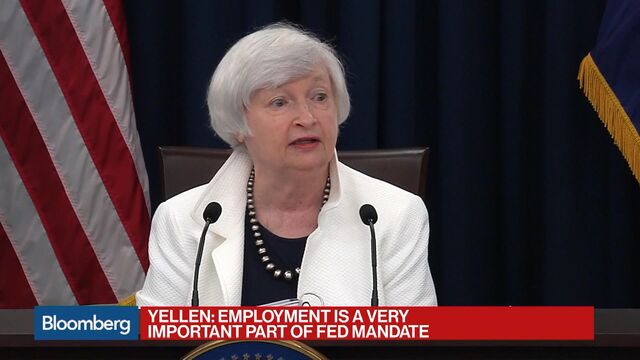 Mark it Zero
The Bank of Japan's yield curve control targeting just celebrated its first birthday ahead of the September decision, expected early in the afternoon and followed by a press conference with Governor Haruhiko Kuroda at 3:30 p.m. Tokyo time. A ten-year yield of zero has proven to be an attainable goal – in stark contrast to the 2-percent inflation the bank's long been seeking. Analysts surveyed by Bloomberg unanimously expect policy to be kept unchanged, but investors will be watching closely for any hints that the central bank is considering tweaks to its asset-purchasing program. Also on deck: New Zealand second quarter growth figures, forecast to quicken to 0.8 percent quarter-on-quarter from 0.5 percent in the first three months of the year; Thai trade data for August, and Japan's all industry activity index for July. Reserve Bank of Australia Governor Philip Lowe is also scheduled to deliver a speech in Perth.
Wormy Apple
Stocks slid, the dollar gained, and Treasury yields rose in the immediate aftermath of the Fed decision, but the S&P 500 Index recovered late in the session to eek out another all-time high. Bank stocks, fueled by the hawkish central bank commentary and rising yields, paced the advance, while tech was the biggest drag on benchmark gauges. Shares of Apple suffered their worst drop in more than a month after Rosenblatt Securites analyst Jun Zhang said demand for the iPhone 8 is "substantially lower" than for the previous two models.
>$50
West Texas Intermediate futures closed above $50 per barrel for the first time since July. The weekly report from the Energy Information Administration showed that U.S. stockpiles of gasoline hit a 22-month low, suggesting that refiners need to crank up their crude processing. A tight physical market for crude has seen one of the world's largest storage facilities, located in Africa, bleed inventories amid firm demand. Representatives from OPEC and other major producers are meeting in Vienna this week to discuss the state of the oil market and assess the need for an extension of their deal to curb output or deeper production cuts – though no conclusive update on that front is expected until November. In August, parties showed a more than perfect record of compliance to the agreement, according to some delegates.  Meanwhile, the upcoming referendum on Kurdish independence may cause a deterioration in the oil-rich region's relationship with neighboring Turkey.
Futures Up
Nikkei 225 and S&P/ASX 200 futures are trading to the upside ahead of the open after the MSCI Asia Pacific Index moved higher on poor breadth the previous session. A risk-on day saw the Japanese yen lag most major currencies, including the U.S. dollar, which is typically a boon for domestic equities. The kiwi was the best performing G-10 currency on Wednesday after a poll showed the ruling National Party surpass the opposition Labour Party, whose success in previous surveys had been met with selling pressure in the currency.
What we've been reading
This is what caught our eye over the last 24 hours.
Quotes from this Article
Before it's here, it's on the Bloomberg Terminal.
LEARN MORE