Fed Rate Increase May Take Fluff Out of Market, OECD's Mann Says
By and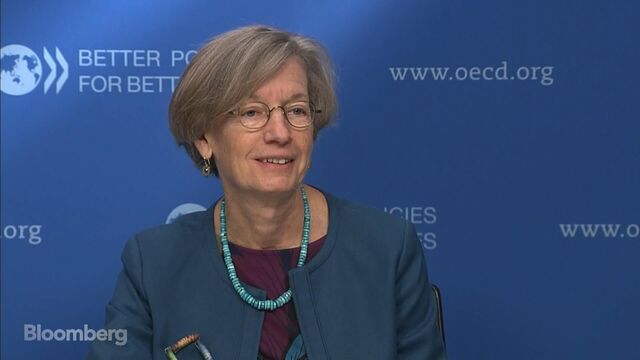 A rate increase by the U.S. Federal Reserve may limit excess bullishness in financial markets, OECD Chief Economist Catherine Mann said.
Fed officials are widely expected to leave rates unchanged on Wednesday as they announce a start date for the gradual unwinding of the U.S. central bank's $4.5 trillion balance sheet. The decision is scheduled for 2 p.m. in Washington, followed 30 minutes later by Chair Janet Yellen's press conference.
A change of "25 or 50 basis points is not going to make that much difference to the decision for business to invest in real plant equipment technology," Mann said in an interview with Bloomberg Television. "It might take a bit of the fluff out of the financial market and that would be a good thing."
The European Central Bank, by contrast, needs to take care not to hurt the euro area's banking system as it begins to withdraw stimulus.
In Europe, countries are "all now growing more rapidly," but there are still a "range of issues on the banking side so the ECB is not as far down the road on quantitative easing," she said.
Before it's here, it's on the Bloomberg Terminal.
LEARN MORE