Fed Eyes Tame Balance-Sheet Taper After Tantrum Error: Timeline
By
In just four years, balance-sheet chatter became boring

Fed has succeeded at making process like 'watching paint dry'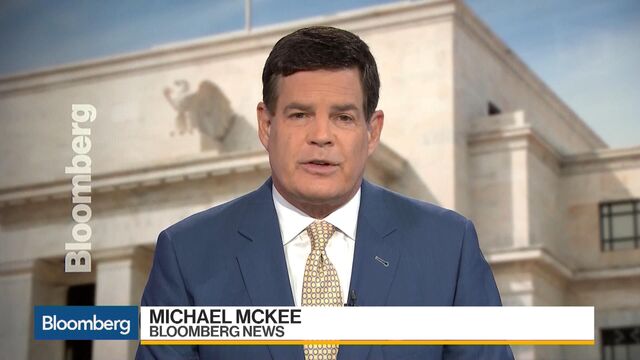 The Federal Reserve is expected to announce the start of a gradual process to unwind its $4.5 trillion balance sheet on Wednesday and markets are exceedingly calm. That's a far cry from 2013, when the mere mention of a slowdown in asset purchases sent a spasm through the global financial system as bond yields soared and stock prices tumbled.
Below is a timeline that shows how reactions to changes in the Fed balance sheet went from the so-called "taper tantrum" to relative tranquility, even as the world's most powerful central bank prepares to do what no monetary authority has done before: exit from massive quantitative easing by allowing its bloated bond holdings to roll off slowly.

Here's How Central Banks Shrink Their Balance Sheets
November 2008:
The Fed announces the first of three rounds of quantitative easing as it prepares to cut its overnight policy rate to zero. The massive bond-buying campaign begins with mortgage-related debt and is later augmented in 2009 with purchases of Treasury securities. It ultimately swells the central bank's balance sheet five-fold to $4.5 trillion. The controversial strategy, designed to spur hiring by loosening financial conditions in a world where central banks were running out of other policy options, will succeed in lifting stock prices but will have less success in bolstering inflation.
May 2013:
Then-Fed Chairman Ben Bernanke sends yields soaring by telling Congress that the Fed may cut the pace of bond purchases at its next few meetings if policy makers see indications of sustained economic growth, kicking off the now-infamous taper tantrum.
December 2013:

The Fed trims its bond purchases to $75 billion from $85 billion, taking the first step toward unwinding its unprecedented stimulus. Stocks rally on the news as the Fed couples its decision with a stronger commitment to maintaining accommodative policy.
September 2014:

The Fed issues policy normalization principles that lay out a plan to gradually raise the federal funds rate range before reducing the central bank's securities holdings. The reasoning? The Fed can better predict how rate changes will affect the economy than shifts in the size of its balance sheet.
March 2015:
Officials drop their pledge to be "patient" in removing accommodation, opening the door for an upcoming liftoff from near-zero interest rates. Even as the Fed prepares to hike, it reaffirms its policy of reinvesting interest and principle repayments from its bond portfolio in order to maintain the size of the balance sheet.
December 2015:

After delays caused by international uncertainties, the Fed manages to lift interest rates, leaving the balance sheet unchanged.
August 2016:

In her speech at the Kansas City Fed's conference in Jackson Hole, Wyoming, Chair Janet Yellen notes that unwinding the balance sheet comes with uncertainties: "financial markets and the economy could potentially be destabilized if assets were sold too aggressively," and reiterates that changes to the holding are coming "at some point after the process of raising the federal funds rate is well under way."
January 2017:
Boston Fed President Eric Rosengren urges his colleagues to begin discussing the best time to start reducing the size of the central bank's balance sheet at a speech in Connecticut.
April 2017:
Minutes of the Federal Open Market Committee's March 14-15 meeting signal that participants want to gradually shrink the balance sheet to prevent a sharp rise in borrowing costs. Reductions will be "gradual and predictable," and should be accomplished by "phasing out" of reinvestments, they say.
May 2017:
Philadelphia Fed President Patrick Harker says the balance sheet unwind will be "the policy equivalent of watching paint dry," applying a phrase that will be echoed through the coming months by his colleagues on the rate-setting FOMC.
June 2017:

In a surprise to most Fed watchers, the central bank lays out a detailed plan for its balance sheet unwind, leaving out only the starting date. Over the summer, Fed officials suggest that final details will come in September, barring a major disruption.
... and so it is that eight years after the Fed crossed the Rubicon as it ramped up QE, to borrow Bernanke's words, it's about to make another unprecedented move -- but one that will surprise no one and is expected to do little to roil markets.
"Given how historic the meeting is, it probably will be pretty boring," said Michael Feroli, chief U.S. economist at JPMorgan Chase & Co. "Most of the details have been laid out in the June addendum, the actual action seems pretty straightforward."
Before it's here, it's on the Bloomberg Terminal.
LEARN MORE