ECB's Top Officials on Parade Ahead of Key October Decision
By
Draghi and colleagues prominent in crowded conference season

ECB is preparing for Oct. 26 meeting on future of QE program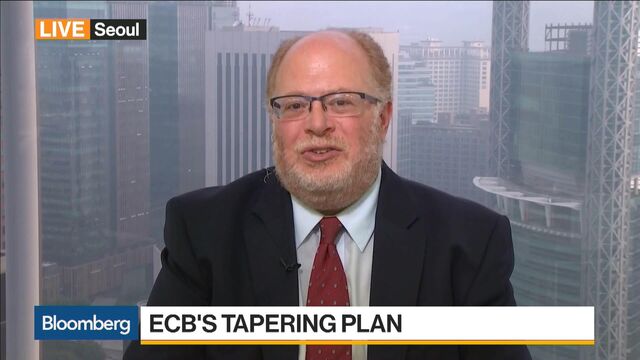 Investors hunting for European Central Bank clues on its stimulus plans could be kept on their toes for the next several days.
ECB President Mario Draghi has three public appearances scheduled in three working days starting Thursday, and another at the end of next week. Over the same period, his Executive Board colleagues Vitor Constancio, Peter Praet, Benoit Coeure, Sabine Lautenschlaeger and Yves Mersch will all speak at multiple events around Europe.
While not all of the sessions are on monetary policy, the crammed conference season offers plenty of opportunity for remarks that could give some insight into the board's thinking just before the ECB's Oct. 26 policy meeting. At that gathering, the Governing Council is expected to take the bulk of decisions -- in Draghi's words -- on how to shape its bond-buying program and forward guidance for 2018 as the economic recovery broadens.
Those remarks also have the potential to spark market volatility. The ECB is considering whether to slow asset purchases from the current 60 billion euros ($72 billion) a month and, if so, for how long before stopping altogether. It's also debating whether it should try to calm nerves by highlighting the reinvestment of maturing debt, which will average about 15 billion euros a month, and how to adjust its forward guidance.
When

Where
Who
What

Sept. 21,
11:30 a.m.(local time)
Frankfurt
Praet
Chairing panel at ECB conference "Low inflation: Lessons from the past! Lessons for the future?"
Sept. 21,
3:30 p.m.
Frankfurt
Draghi
Welcome remarks at 2nd ESRB annual conference
Sept. 22,
9:15 a.m.
Sarajevo
Coeure
Keynote statement at conference on the occasion of the 20th anniversary of the Central Bank of Bosnia and Herzegovina
Sept. 22,
9:30 a.m.
Dublin
Draghi
Keynote speech at Henry Grattan Lecture Invitation organized by Trinity College
Sept. 22,
10:30 a.m.
Dublin
Draghi
Participation in student roundtable at Trinity College
Sept. 22,
1:15 p.m.
Frankfurt
Constancio
Closing remarks at ECB conference "Low inflation: Lessons from the past! Lessons for the future?"
Sept. 22,
3:15 p.m.
Frankfurt
Constancio
Chairing panel "Macroprudential policy beyond banking" at the 2nd ESRB annual conference
Sept. 25,
9 a.m.
Frankfurt
Constancio
Opening speech at at 2nd ECB annual research conference
Sept. 25,
10:15 a.m.
Lisbon
Mersch
Keynote speech at joint Banco de Portugal and ECB conference on risk management for central banks
Sept. 25,
3 p.m.
Brussels
Draghi
Introductory statement at the ECON hearing at the European Parliament
Sept. 25,
4:45 p.m.
Frankfurt
Coeure
Chairing policy panel on "Exit from non-standard monetary policy" at 2nd ECB annual research conference
Sept. 26,
2 p.m.
Frankfurt
Praet
Chairing of Jean Monnet Lecture "Good Pension Design" at 2nd ECB annual research conference
Sept. 28,
10 a.m.
Berlin
Praet
Opening keynote speech at TSI Congress 2017
Sept. 28,
1:10 p.m.
Vienna
Lautenschlaeger
Keynote speech at ESE conference "Financial supervision – ready for future challenges?"
Sept. 29,
3:15 p.m.
London
Draghi
"In conversation" dialog with Governor Mark Carney at the BOE's 20 Years On conference
A complicating factor is that the U.S. Federal Reserve has decided to move into the next phase of its exit from crisis-era policies. The Fed will begin to shrink its $4.5 trillion balance sheet next month.
Dutch central-bank Governor Klaas Knot tried to set the tone for the ECB on Wednesday, saying in Brussels that he's confident that euro-area inflation will return to levels consistent with the goal -- meaning bond-buying can be wound down.
"Against the backdrop of an increasingly reflationary environment, the tail risk of a deflationary spiral is no longer imminent. Consequently, the main rationale for central bank asset purchases has disappeared."
Draghi has previously acknowledged the region's "reflationary forces" but also had to cut the ECB's inflation outlook this month, in part because those pressures are being undermined by a stronger euro.
He'll give the welcome address at the European Systemic Risk Board annual conference in Frankfurt on Thursday, before traveling to Dublin for a speech on Friday -- where he'll also have a roundtable with Trinity College students. On Monday, he'll be in Brussels to face European lawmakers for his quarterly testimony.
Praet, the ECB's chief economist who prepares the policy proposals for the Governing Council, said last week that he understands the calls for asset purchases to be tapered but that underlying inflation is too weak and "substantial stimulus" is still needed. The institution foresees consumer-price growth averaging only 1.2 percent next year and 1.5 percent in 2019, well below its target of just under 2 percent.
London Finale
Praet will chair a panel at an ECB conference on low inflation on Thursday. That event will close on Friday with remarks by Vice President Constancio, who will also be at the ESRB event and who will open the ECB's Annual Research Conference on Monday. Coeure will speak in Sarajevo on Friday and chair a panel on "exit from non-standard monetary policy" on Monday. Mersch and Lautenschlaeger have speeches next week in Lisbon and Vienna, respectively.
Draghi will cap his burst of public appearances in London on Sept. 29, when he'll be joined by a raft of central-bank luminaries as the Bank of England marks 20 years of independence. His session has the potential to be doubly interesting -- he'll have an on-stage conversation with BOE Governor Mark Carney, who is trying to gauge whether the Brexit-hobbled U.K. can cope with a rate hike to rein in inflation.
Before it's here, it's on the Bloomberg Terminal.
LEARN MORE