Cocaine Cartels Among the Big Winners From Colombian Peso Drop
By
Output tripled in three years, raising eyebrows in Washington

Other causes include gold price drop, end of aerial spraying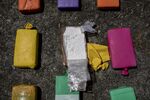 Finance Minister Mauricio Cardenas's prophesy that the weaker peso would boost Colombian exports is coming true. Unfortunately, one of the main exports getting boosted is cocaine, while legal industries remain in the doldrums.

The amount of land planted with coca, the raw material for making the drug, has tripled over the last three years, to 146,000 hectares. This phenomenon has been blamed on a variety of causes, including the end of aerial spraying with weedkiller, the peace process with Marxist rebels and a drop in the gold price, which cut the profits in illegal mining, the mafia's other big earner.
Vice President Oscar Naranjo, formerly head of the national police, this week floated another theory in an interview with El Tiempo newspaper: currency depreciation bears some of the blame.
"One of the fundamental reasons for the growth has to do with the weakening of the peso," Naranjo said. "This in an attractive incentive for the mafias, to promote planting and production of more coca."
The weaker currency has kept prices up for Colombian coca farmers amid the surge in output. The price of a kilo of coca paste, an unrefined form of cocaine produced by the farmers, fell in 2016 to $621, from $1,011 in 2013, according to the United Nations Office on Drugs and Crime, but in local currency remained stable at around 1.9 million pesos, even though they're growing three times as much. Traffickers buy up the paste and refine it into cocaine in laboratories hidden in the jungle.
President Donald Trump this month said he'd considered de-certifying Colombia as a partner in the war on drugs -- which would give the U.S. ally the same rogue status as Venezuela -- over the surge in illegal drug production.
Before it's here, it's on the Bloomberg Terminal.
LEARN MORE