Boris Johnson Will Fly Back to London With May After Their Brexit Feud
By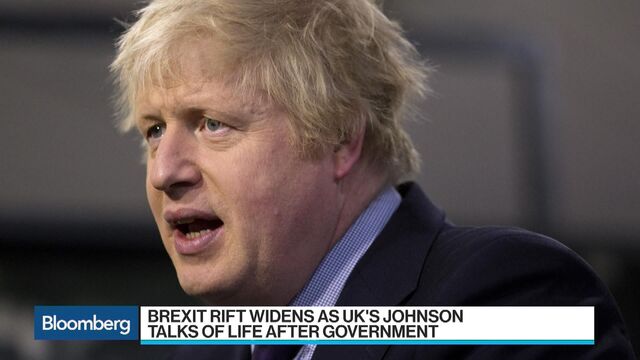 Follow @Brexit for all the latest news, and sign up to our daily Brexit Bulletin newsletter.
The five-day soap opera in New York involving U.K. Prime Minister Theresa May and her top diplomat has come to a close with Boris Johnson joining his boss on her flight back to London.
For a moment it looked like Boris, as he's known back in Britain, was about to resign or get fired for speaking out of turn on Brexit. On Friday he unexpectedly dropped a 4,200-word opus that challenged her leadership and strategy just days before she prepares to give a big speech in Florence.
The flare-up occurred against the backdrop of the United Nations General Assembly, where it became unclear if they would meet -- be it a cocktail reception at the U.K. ambassador's residence or along the corridors of the UN building. Now it seems that he will hitch a ride back on her plane in time to attend a Cabinet meeting on Thursday.
"Programs permitting, the foreign secretary is flying back with us tonight," May's spokesman. James Slack, told reporters in New York.
Johnson was meant to host an event on Somalia on Friday. Instead he will be by May's side in Italy, when she will deliver the latest incarnation of her vision for Brexit.
Before it's here, it's on the Bloomberg Terminal.
LEARN MORE