Amazon Reviewing Site After Algorithm Suggests Bomb Supplies
By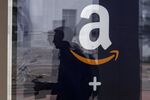 Amazon.com Inc. is reviewing its website after a British television station reported the online retailer's product recommendation algorithms suggested shoppers purchase items used to make bombs.
The U.K.'s Channel 4 News on Monday reported that Amazon's "frequently bought together" algorithm revealed to shoppers ingredients used to assemble explosives, such as ball bearings, remote detonators and chemicals to make black powder. The report followed last week's terrorist attack that involved a crude explosive planted on a commuter train that injured 30 people.
The ingredients sold on Amazon are not illegal but the report was troubling because it suggests that people interested in making explosives are already shopping on Amazon.
"In light of recent events, we are reviewing our website to ensure that all these products are presented in an appropriate manner," the company said in a statement, according to The New York Times and Reuters.
Before it's here, it's on the Bloomberg Terminal.
LEARN MORE