Politics
When Your New Airport Is Six Years Late, a '70s Relic Looks Good
The Sept. 24 election will include a referendum on the fate of Berlin's Tegel.
By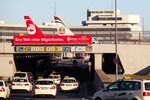 What is it with Berlin and airports? The city, whose new Willy Brandt international is more than six years late with no arrival in sight, is debating whether to keep the Cold War-era Tegel operating even after the new facility opens. That question will be on the ballot in Berlin on Sept. 24 when Germans vote in parliamentary elections.
"Tegel is a prime example of how Berlin's future is being gambled away," said Sebastian Czaja, a local politician who forced the non-binding referendum with a petition drive that collected 250,000 signatures. "Let's keep the one thing that's working in this city."
Czaja's Free Democrat party has made Tegel a key issue in its campaign in Berlin, with billboards across the city declaring its candidates "Tegel-savers," a bold move in a country where there's often fierce resistance to large infrastructure projects. The rival Greens, meanwhile, have plastered the city with posters decrying Tegel as too noisy and polluting.

Construction at the new airport, generally known as BER, started in 2006 and it was to open in 2011. It's since been delayed multiple times, with the price tag doubling to some $6 billion. There's no set launch date as myriad problems remain to be fixed in the largely completed terminal, and the airport won't open before 2019. Air Berlin Plc, which declared itself insolvent last month, has partly blamed its troubles on the delays at BER and its continued reliance on Tegel as a hub.
Proponents of the vote note that with the 2008 shutdown of Tempelhof, the historic facility where Allied planes landed in the Berlin Airlift, the city's remaining airports—Tegel in the west and Schoenefeld in the east—serve more passengers than BER is designed to handle. The highways and rail lines connecting it to the city center can't carry the traffic it will generate, they say, and Tegel is profitable and noise abatement investments will likely have to be made long before BER opens. Their opponents counter that maintaining two airports is too expensive and that noise and pollution from Tegel expose the city to the risk of lawsuits. The latest polls predict between 53 percent and 80 percent of Berlin voters will support keeping Tegel open.

Tegel—designed by Meinhard von Gerkan, the same architect behind BER—was built to handle 2.7 million passengers a year when Berlin was an island in a sea of communism. It's now overflowing as tourists and business travelers flock to the capital. It doesn't have different levels for arrivals and departures and only rudimentary retail space, and there's no rail connection to the city. When BER opens, Tegel is to be converted into a tech business park, with some apartments scattered in, though supporters of keeping it open say the land is contaminated and would need significant cleanup.
Chancellor Angela Merkel, running for a fourth term in the elections, has said current laws require Tegel to shut down shortly after BER opens. "That's the legal situation," Merkel told reporters in Berlin last month, "whether I think it's right or not."
— With assistance by Stefan Nicola
Before it's here, it's on the Bloomberg Terminal.
LEARN MORE