Venezuela Says It's Ready to Resist U.S. 'Aggression'
By
Foreign Ministry also attacked Colombia's President Santos

Venezuela says it'll defeat Trump politically, diplomatically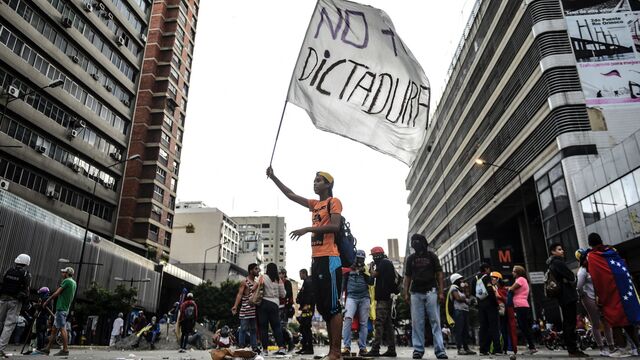 Venezuela says it's prepared to defend itself against aggression from U.S. and its allies as they ratchet up pressure on the government of President Nicolas Maduro.
Venezuela will "keep defeating in the political and diplomatic spheres" what it described as an onslaught of nefarious threats against its sovereignty, the government said in a statement Tuesday.
The U.S. has undermined Venezuela's "sovereignty, peace and stability" the Ministry of Foreign Affairs said in a statement on its website. In addition, the ministry criticized the "shameful and detestable" attitude of Colombian President Juan Manuel Santos for treating Venezuela as though it were a destabilizing force in the region.
Trump on Monday hit out at the "disastrous" Venezuelan government, which he said has caused starvation, and said he would weigh further action if the Maduro administration "persists on a path to imposing authoritarian rule."
Brazil's President Michel Temer said that regional leaders agreed on the need to maintain pressure on Venezuela, while Santos said he would discuss with Trump how best to help his neighbor "become a democracy again."
The U.S. has increased its pressure on Venezuela in the aftermath of Maduro's moves to sideline the opposition by replacing Congress with a so-called "constituent assembly" of government supporters.
The U.S. last month imposed sanctions that restrict trading in new debt issued by the Venezuelan government and state oil company PDVSA. This followed other rounds of sanctions on Venezuela targeting individual members of the government.
Before it's here, it's on the Bloomberg Terminal.
LEARN MORE