UN Chief Condemns North Korea Threat, Prods U.S. on Climate Deal
By
'People are hurting,' Secretary-General Antonio Guterres says

Speech kicks off six days of speeches by global leaders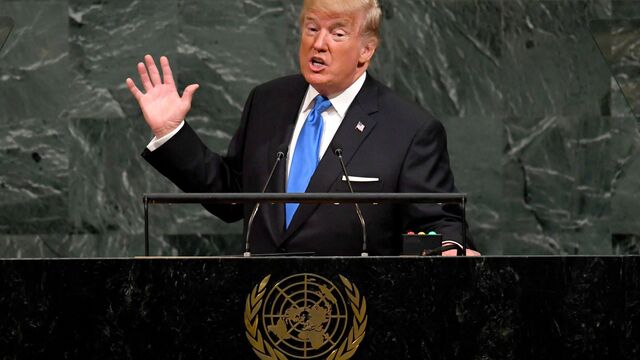 United Nations Secretary-General Antonio Guterres condemned North Korea's recent nuclear test as a "grave threat" to world peace and called on all countries to step up efforts to enforce Security Council sanctions imposed on Kim Jong Un's regime.
Addressing the annual gathering of heads of state at the start of the UN General Assembly on Tuesday, Guterres highlighted seven "grave challenges" facing the world, including terrorism, unresolved conflicts or sectarian disputes in countries from Syria to Myanmar, as well as cyberattacks, which he called the "dark side of innovation."
"People are hurting and angry," Guterres said, according to prepared remarks. "They see insecurity rising, inequality growing, conflict spreading and climate changing."
While Guterres and U.S. President Donald Trump have found shared interests on North Korea and efforts to promote "reform" of the UN by targeting troubled peacekeeping programs, Portugal's former prime minister also offered a subtle jab at U.S. criticism of the Paris climate accord, which Trump has vowed to exit.
"It is high time to get off the path of suicidal emissions," Guterres said, according to the prepared remarks. "We know enough today to act. The science is unassailable."
UN 'Club' Trump Derided Forges Fresh Alliance on Key Issues
Trump has said the global body needs to prove its value, and he's leaning on it to do so on both North Korea and, to a lesser extent, Iran. Trump, who speaks Tuesday soon after Guterres finishes, has criticized a UN-sanctioned agreement on Iran's nuclear program as the "worst deal ever" and suggested he could walk away from it as soon as next month.
"The main message is 'make the United Nations great.' Not again. 'Make the United Nations great,'" Trump said Monday. "Such tremendous potential, and I think we'll be able to do this."
Guterres also outlined how he was opposed to the ban on immigrants proposed by the Trump administration, which was later overturned by the courts.
"Every country has the right to control its own borders," Guterres, 68, said. "But that must be done in a way that protects the rights of people on the move."
And he singled out the worsening refugee crisis in Myanmar, where hundreds of thousands of people from the Rohingya minority have fled for Bangladesh under pressure from the military. Myanmar's Nobel Peace Prize laureate, Aung San Suu Kyi, has found her reputation tarnished for not speaking out forcefully on the crisis or doing more to rein in the military.
"A vicious cycle of persecution, discrimination, radicalization and violent repression has led more than 400,000 desperate people to flee, putting regional stability at risk," Guterres said in the prepared remarks. "The authorities in Myanmar must end the military operations, and allow unhindered humanitarian access."
Before it's here, it's on the Bloomberg Terminal.
LEARN MORE