Tony Blair Sees Risk of Brexit Leading to a Hard-Left Government
By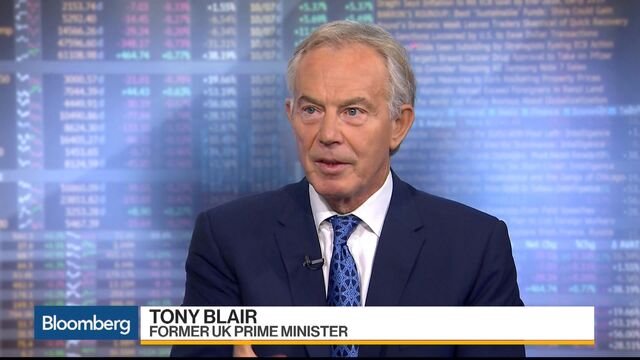 Tony Blair, former Labour Prime Minister of the U.K. and an outspoken opponent of the split with the European Union, warned on Tuesday that pursuing a "hard Brexit" could result in a Socialist-leaning Labour government.
Asked about Foreign Secretary Boris Johnson's plan for a fast split from the bloc, Blair said the vision of crashing out of the EU with the goal of becoming a low-tax, low-regulation offshore hub would be a disaster.
"The risk that we face is if we do this hard Brexit, actually the economy will suffer, our public services will be under threat and you actually might end up in the U.K. with a Labour government frankly further to the left than any Labour government's ever been," Blair said in an interview with Bloomberg TV in New York. 
"You combine a right-wing populist punch in the form of Brexit with a left-wing populist punch in the form of a Labour government with an unreconstructed far-left program, we're going to do our country some damage."
Blair is no ally of current Labour leader Jeremy Corbyn, who was a serial rebel in his government between 1997 and 2007. His characterization of him winning an election as a "risk" of Brexit shows how distant he is from the current party hierarchy.
It comes as Corbyn is seeking to change the party machinery at Labour's conference next week to ensure another left-winger will replace him as party leader. He wants to change the rules so the support of fewer House of Commons lawmakers -- who tend to be more centrist -- is needed for candidates to go forward for election by the party membership.
Blair's views also echo those of former Tory leader William Hague, who warned in his column in the Daily Telegraph on Tuesday that continued bickering among ministers over the best route out of the EU would lead to a Labour victory.
Before it's here, it's on the Bloomberg Terminal.
LEARN MORE