How Toys 'R' Us Collapsed So Quickly
By , , and
Speed of collapse into bankruptcy surprises some investors

Talks on out-of-court settlement stumbled as vendors defected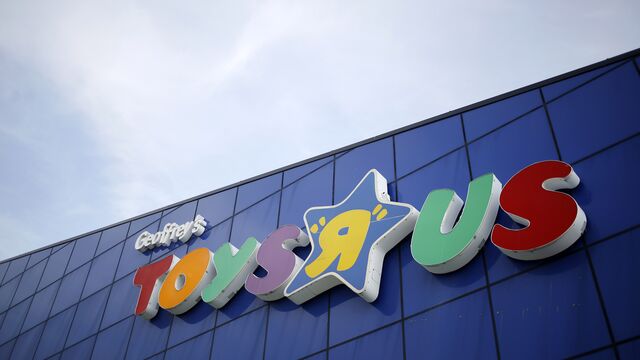 Toys ''R'' Us Inc., which somehow managed to sustain a crushing debt load for more than a decade after its 2005 buyout, finally succumbed this week to a "dangerous game of dominoes" that toppled the retailer in a matter of days.
Until the past few weeks, markets had reflected little doubt that a rescue deal would get done before the crucial holiday shopping season, as Toys ''R'' Us negotiated to restructure about $400 million of borrowings due next year. But while creditors held out for a sweetened offer, people with knowledge of the matter said, the company started preparing for a possible Chapter 11 filing. That kicked off a chain of events that showed how quickly a retailer can buckle when key suppliers and creditors get spooked.
"The bankruptcy became a self-fulfilling prophecy," said Hugh Ray, an attorney with McKool Smith in Houston. Credit managers and vendors "convinced each other it was a crisis, and the rumors fed on each other."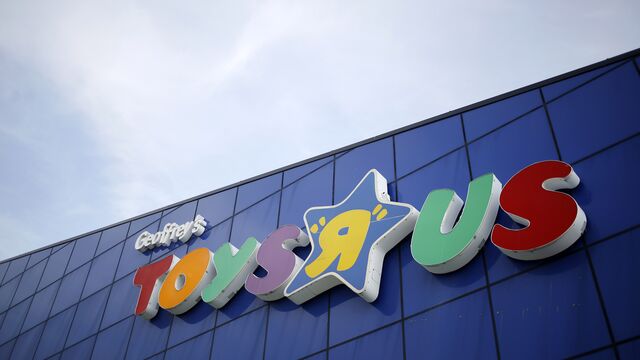 The speed of their downfall was reflected in debt markets, where Toys ''R'' Us bonds that traded at almost par on Sept. 1 plunged to as low as 18 percent of face value this week. The upfront cost to insure $10 million of debt against default skyrocketed from about $300,000 on Sept. 5 to $2.5 million at the end of last week. By Monday, the eve of the bankruptcy filing, it was $7.7 million.
It's not as if creditors weren't well aware of troubles at Toys ''R'' Us. The Wayne, New Jersey-based company has operated for over 10 years with debt that now totals $5 billion and costs the chain around $400 million a year.
Scotch Tape
"They've been trying to hold it together with Elmer's glue and Scotch tape," said John Lekas, senior portfolio manager at Leader Capital Corp., with about $300 million of assets.
But now cash has run short and Toys ''R'' Us has fallen behind competitors, without the ability to invest in its business and future, Chief Executive Officer David Brandon said in a court declaration.
The company hired Lazard Ltd., Kirkland & Ellis LLP and Alvarez & Marsal to restructure, and by August it was talking with a group of its term loan lenders to give it more "liquidity and afford breathing room" that would take it through the key holiday season, according to the filing.

What ensued in the eyes of some creditors was a game of chicken, with the prospect of bankruptcy if the company and debt holders failed to reach an agreement, according to people familiar with the negotiations.
To investors, it looked like the company was trying to win concessions such as maturity extensions, according to the people, who asked not to be identified because the talks were confidential. Falling bond prices added pressure to negotiate rather see the value on their holdings evaporate, the people said. Creditors in turn demanded more of a stake in exchange for agreeing to take losses on their holdings and keep the company out of court, the people said.
Those talks went nowhere, and on top of that, the news of a potential court filing leaked on Sept. 6 on CNBC. This spooked suppliers, who would have some of the weakest claims in a bankruptcy case, and set off what Brandon in the court filing called a "dangerous game of dominoes.'
Within a week, almost 40 percent of the vendors were refusing to ship toys and other products without immediate cash payment and in some cases, payment of all outstanding obligations. The vendors faced pressure at their end, too, as their credit insurers and financing firms also withdrew. 
Daunting Odds
The company had considered a debt extension, according to statements in bankruptcy court by David Kurtz of Lazard. But this would have left the retailer worse off, with too much debt and interest to pay and not enough resources to execute a turnaround, Kurtz said.
By the third week of August, it was apparent that the odds were heavily stacked against the company, and it shifted to preparations for a Chapter 11 filing, Kurtz told the court. The timing was rushed to avoid having to announce the failure to revise the 2018 notes in the September earnings statement, and the company would probably have to include a warning that its survival was in doubt, driving away trade creditors, Kurtz said.
By Brandon's reckoning, "the timing of all this could not have been worse," according to the court filing. The moves left Toys ''R'' Us needing an extra $1 billion of new liquidity as it heads for the holiday sales season, according to the filing.
"For Toys, it probably isn't something that needed to happen as quickly as it did, but once the vendors got nervous, it became unavoidable," Bloomberg Intelligence analyst Noel Hebert said. "Vendors remain the most critical piece for retailers, particularly those -- like Toys -- who already face tightened liquidity terms."
— With assistance by Sridhar Natarajan, Matthew Townsend, Lisa Lee, Eliza Ronalds-Hannon, and Sally Bakewell
Before it's here, it's on the Bloomberg Terminal.
LEARN MORE