Photographer: Chris Ratcliffe/Bloomberg
Tech Firms Face Fines Unless Terrorist Material Removed in Hours
By
U.K., France and Italy to warn companies on UN sidelines

Facebook, Google and Twitter to attend Wednesday meeting
European leaders will warn the world's biggest technology companies that they face fines unless they meet a target of removing terrorist content from the internet within two hours of it appearing.
At a meeting in New York on the sidelines of the United Nations annual meeting, U.K. Prime Minister Theresa May, French President Emmanuel Macron and Italian Prime Minister Paolo Gentiloni will address executives from companies including Facebook Inc., Alphabet Inc.'s Google, Microsoft Corp. and Twitter Inc. 
Their goal is to persuade these tech giants that stopping terrorists from using their platforms should be a priority and the focus for innovation. May's office pointed to Twitter's success in this area. The company said Tuesday that automated tools had helped it to suspend nearly 300,000 accounts linked to terrorism so far this year.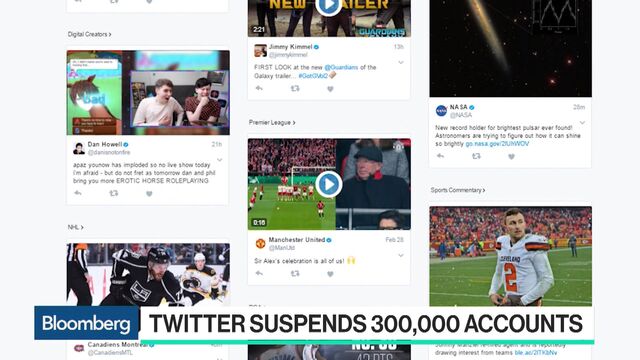 "Terrorist groups are aware that links to their propaganda are being removed more quickly, and are placing a greater emphasis on disseminating content at speed in order to stay ahead," May will tell the meeting, according to her office. "Industry needs to go further and faster in automating the detection and removal of terrorist content online, and developing technological solutions which prevent it being uploaded in the first place."
Read more about the U.K. is taking on tech firms after terror attacks
Most of the material that Islamic State puts online is aimed at radicalizing people and encouraging them to carry out attacks at home. Britain has seen four such attacks this year, from the unsophisticated Westminster and London Bridge assaults where the attackers used vehicles and knives to to the more advanced bomb attack in Manchester and last week's failed subway bomb.
Instructions to make bombs are usually hosted on smaller platforms, which often lack the tools to identify and remove content.
May's government is looking at making internet companies legally liable if they don't take terrorist material down quickly. The first two hours after something is put online are considered crucial, as this is when most of the material is downloaded.
Islamic State has developed sophisticated marketing techniques to spread its propaganda before it can be identified and removed. May will say she wants internet companies to identify material as it's being uploaded and stop it appearing at all.
Ahead of the meeting, May will address the UN, talking about the effects of the terrorism that she's seen this year in Britain.
"As prime minister, I have visited too many hospitals and seen too many innocent people murdered in my country," she'll say, according to her office. "And I say enough is enough. As the threat from terrorists evolves, so must our cooperation."
Before it's here, it's on the Bloomberg Terminal.
LEARN MORE