Suu Kyi Says Myanmar Ready to Welcome Back Rohingya Refugees
By
Government leader said no clearance operations since Sept. 5

Over 400,000 Rohingya have fled into Bangladesh since Aug. 25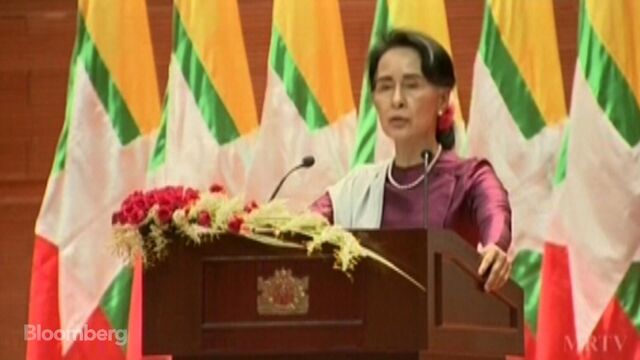 Myanmar leader Aung San Suu Kyi said her government was ready to welcome back Rohingya refugees who fled a crackdown by security forces over the past month.
"We condemn all human rights violations and unlawful violence," Suu Kyi said on Tuesday in a rare televised English-language address from the capital Naypyidaw. "We are committed to the restoration of peace, stability and rule of law throughout the state."
QuickTake Myanmar's Rohingya Crisis, Explained
More than 400,000 Rohingya refugees have fled across Myanmar's border with Bangladesh since Aug. 25, when militants from the Arakan Rohingya Salvation Army attacked 25 police and army posts, killing a dozen security officials in the eastern state of Rakhine.
The military responded to those attacks with what it has called "clearance operations." Human-rights groups have accused security forces and Buddhist vigilantes of indiscriminately attacking Muslims and burning their villages.
"The security forces have been instructed to adhere strictly to the code of conduct in carrying out security operations, exercise all due restraint and to take full measures to avoid collateral damage and the harming of innocent civilians," Suu Kyi said. Authorities are ready to start the verification process for those who fled to return to Myanmar, she said.
Read more: Myanmar's Rohingya Refugee Crisis, Explained
The army has said more than 400 people have died, most of them militants, while human-rights groups say hundreds of villagers have been killed. Earlier this year, United Nations investigators concluded that soldiers had "very likely" committed crimes against humanity while responding to a Rohingya militant operation in October 2016.

Expressing concern at the number of Muslim refugees fleeing across the border to Bangladesh, Suu Kyi pledged to find out "why the exodus is happening."
"I think it is very little known that the great majority of Muslims in Rakhine state have not joined the exodus," Suu Kyi said. "More than 50 percent of the villages of Muslims are intact."
Watch the entire speech live on Facebook:
Suu Kyi's references to the majority of Muslims in Rakhine state not having fled "seem completely irrelevant," said Melissa Crouch, a senior lecturer in the Law Faculty at the University of New South Wales.
"Many of her blanket statements are unfortunately just not true," said Crouch, whose publications include "Islam and the State in Myanmar," referring to Suu Kyi's statement on Tuesday that all people in Rakhine state have access to healthcare and education.
While the crisis has damaged Suu Kyi's reputation abroad, it has boosted support for her at home. "What the international community is also misunderstanding is that they have now made a martyr of Daw Suu," Crouch said. "The campaign 'we stand with Daw Suu' was all over Facebook leading up to and after the speech. She clearly still has the support of the majority of the people."
Still, the crisis has threatened to sap investor confidence in the fast-growing Southeast Asian nation, which saw the U.S. and European nations begin to ease sanctions after the military junta released Suu Kyi from house arrest in 2010.
Foreign investment plunged 30 percent last fiscal year after overseas investors pumped a record $9.5 billion into the economy in the preceding 12 months. The investment shortfall coincided with concern over the direction of the government's economic agenda and increased attention over Rakhine.
Myanmar still has a bright economic outlook as it builds off a low base. The Asian Development Bank forecasts growth at 7.7 percent for 2017 and 8.0 percent in 2018.
Before it's here, it's on the Bloomberg Terminal.
LEARN MORE