Russia Calls Trump's Stance on Iran Deal 'Very Worrying'
By
Russia will defend accord, Iran is in compliance, Lavrov Says

Trump called nuclear pact embarassment to U.S. in UN speech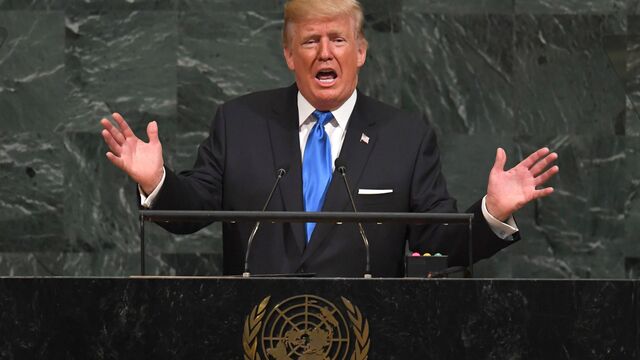 Russia branded U.S. President Donald Trump's hostility toward the Iranian nuclear agreement as "very worrying," vowing to do everything it can to protect the pact.
"We will defend this document, this consensus, which was met with relief by the entire international community and strengthened both regional and international security," Russian Foreign Minister Sergei Lavrov told reporters in New York Tuesday after meeting U.S. Secretary of State Rex Tillerson on the sidelines of the United Nations General Assembly.

In his inaugural speech to the UN earlier in the day, Trump called the Iranian nuclear deal negotiated by his Democratic predecessor Barack Obama "an embarrassment to the United States" that should be revisited.
Russia takes its cue from the findings of the UN nuclear watchdog that Iran is carrying out all its obligations under the agreement, said Lavrov, who voiced dismay that Trump's administration is now criticizing "the joint efforts which allowed us to resolve the Iranian nuclear problem.''
The U.S. and Russia together with other world powers concluded a pact in 2015 after tortuous negotiations that imposed curbs on the Iranian nuclear program in return for lifting sanctions against the Islamic Republic.
Tillerson said after his meeting with Lavrov that Trump "really wants to re-do that deal," and is lobbying European and other allies to support this. In particular, the U.S. opposes the so-called sunset provisions under which the limits on Iran's uranium enrichment activities will start to expire from 2025, he told reporters.
French President Emmanuel Macron also pushed back on Trump's efforts to undo the accord. Macron said in his UN speech Tuesday that questioning the deal "without proposing anything to replace it is a grave error." He went on to ask: "If we denounce the accord, do we better manage nuclear proliferation? I don't think so."
Iranian Foreign Minister Javad Zarif said on Twitter that the accord "is not (re)negotiable. A "better" deal is pure fantasy."
The so-called P5+1, which consists of the five permanent members of the UN Security Council plus Germany and was the format that took part in the Iranian nuclear talks, are due to meet Iran on Wednesday at the UN to discuss the agreement.
— With assistance by Nick Wadhams
Before it's here, it's on the Bloomberg Terminal.
LEARN MORE