Socialists Seek to Remain Biggest Party in Portugal's Town Halls
By
Local elections will take place across the country on Oct. 1

Socialist government is halfway through its term in office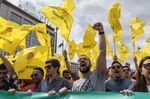 Portugal's ruling Socialists say they aim to remain the leading party across the country's town halls after local elections take place on Oct. 1.
"Our objective is to keep the presidency of the National Association of Municipalities," Ana Catarina Mendes, the party's deputy secretary-general, told reporters in Lisbon on Tuesday. "For that to happen, it means the Socialist Party will hold more town halls than the other parties. That's our goal."
Portugal has 308 municipalities, with the Socialists currently holding 149 of these plus one in a coalition in Funchal on the island of Madeira. The previous local elections were in 2013.
Tourism and exports have been driving a rebound in the economy and that's helping the government manage the budget deficit. There have also been challenges for the administration, with conservative opposition party CDS calling for the defense and interior ministers to resign after weapons disappeared from a military facility and a forest fire killed more than 60 people in June.
The Socialist Party had 40.3 percent support in a poll published by weekly Expresso on Sept. 8, leading the opposition Social Democrats by 11.6 percentage points. The Socialists got 32 percent of the vote in the October 2015 general election and are the second biggest party in parliament.
'Good Health'
Prime Minister Antonio Costa's minority government has been supported in parliament by the Left Bloc, Communists and Greens, which hadn't followed the moderate Socialists in backing European budget rules in the past. Costa reversed state salary cuts faster than the previous government proposed, while raising indirect taxes, and has tried to remove some measures introduced during a bailout program that ended in 2014.
The political arrangement that the Socialists have with the Left Bloc, Communists and Greens in parliament is in "good health," Mendes said.
The government is halfway through its term in office, which is scheduled to end in 2019. After the local elections, the 2018 budget proposal is due by mid-October.
The Socialists hold the town hall in Lisbon, the country's capital and biggest municipality.
"There's no town hall in particular that's more important than the others," Mendes said. "The Socialist Party is determined to win in all the municipalities in these elections."
Before it's here, it's on the Bloomberg Terminal.
LEARN MORE