Iceland's Establishment Under Threat After Pedophile Scandal
By
Polls show tight race ahead of snap election on Oct. 28

Pirate Party says group is now a 'well-oiled machine'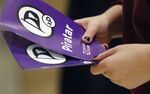 Iceland's latest bout of chaos has a group of Internet rebels smelling power.
After the prime minister tendered his resignation and called early elections (because his father vouched for the character of a convicted pedophile), the future of Iceland's establishment is again under threat. That is giving the Pirate Party a second chance.
Polls show a tight race with new parties emerging ahead of the Oct. 28 vote. The Pirates, which last year tripled support in the most internationally watched election in Iceland's history, say they're now older and wiser.
"We're like a well-oil machine now going into these elections," Asta Gudrun Helgadottir, a Pirate Party lawmaker, said by phone on Tuesday. (Birgitta Jonsdottir, the party's erstwhile spokeswoman who called herself a poetician, is stepping away from politics to focus on writing.)

The context of the latest government collapse looks set to add ammunition to the Pirate Party's anti-establishment arguments. It rode on a wave of discontent last year to become the third-largest group in parliament after Prime Minister Sigmundur David Gunnlaugsson was forced out amid revelations in the Panama Papers he'd avoided tax obligations.
To be sure, what last year's election showed is that the Independence Party of Prime Minister Bjarni Benediktsson is surprisingly resilient. The group has dominated power in Iceland since it won independence from Denmark in 1944 and has a deeply entrenched base that's proven very loyal.
Benediktsson says his party will emerge stronger after the vote and criticized the fragmented nature of Iceland's parliament, which is now home to seven parties.
The premier is hoping that voter fatigue will benefit the more established parties after nearly a decade of constant crisis. The three-party coalition that collapsed on Friday was Iceland's shortest-lived majority government in its seven decades of independence.
"Personally I don't like a multiple party coalition with four, five or six parties," Benediktsson said. "History tells us that's not successful. I would like to see again a coalition that builds on two strong parties."
Self-Reflection
The Pirate Party's Helgadottir said the premier's response shows a lack of self-reflection. "Everyone sees" that the Independence Party has been at the center of Iceland's political instability of the last 10 years, she said.
"It's time that the Independence Party starts looking at itself instead of turning the discussion inside-out and blaming the small parties," she said.
According to Gretar Thor Eythorsson, a professor of politic science at the University of Akureyri, Benediktsson is right in that his party has a loyal group of voters of about 25 percent of the electorate. But it will be hard to recreate the era of two-party dominance, he said.
"The small party system is here whether Bjarni likes it or not," he said. "However, it's not surprising that he now in the run-up to these unexpected elections tries to appeal to people with stability. That's a tactic the Independence Party has often used and it's understandable from their perspective."
People's Party
There's even a new group -- the People's Party -- trying to get into parliament. It's supported by 10.9 percent of voters, according to a Channel 2 poll released on Tuesday. The Independence Party has 23.0 percent backing, the Left Green's 22.8 percent, the Pirate Party 13.7 percent and the Progressives at 10.4 percent. It's the first poll to be conducted after the pedophilia scandal erupted.
The other two ruling coalition members, the Reform Party and A Bright Future, were backed by 5.2 percent and 7.1 percent, respectively.
The sudden nature of the election could benefit the more established parties, according to Eythorsson.
"It's clear that older parties can start their engines quicker," he said. "They have the resources and the manpower to start a campaign quickly."
— With assistance by Nick Rigillo
Before it's here, it's on the Bloomberg Terminal.
LEARN MORE