Nordea Move to Trigger Broad Review of Swedish Banking Rules
By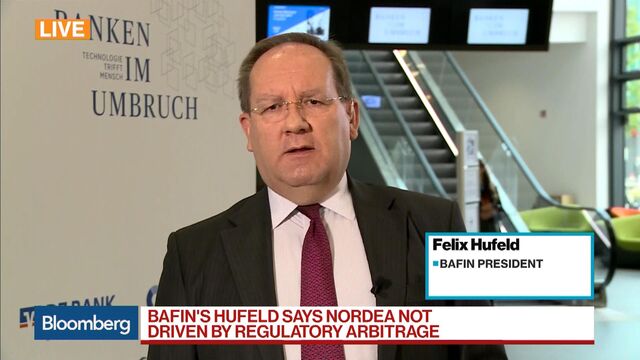 Sweden's minister in charge of bank legislation says the country is reviewing its regulatory framework after Nordea Bank AB announced it was moving into the European banking union.
The Stockholm-based lender's plan coincides with global regulator efforts to impose capital floors and a European revision of rules. Per Bolund, Sweden's financial markets minister, says those developments will force a rethink of bank rules in Scandinavia's biggest economy.
"When the negotiations are completed we need to make an assessment of how that and Nordea's relocation affect the design of Sweden's capital requirements," Bolund said in a written response to questions received on Sept. 18.
High requirements (based on risk-weighted assets)
| | | |
| --- | --- | --- |
| Bank | CET1 Ratio Requirement (2Q)  | Reported CET1 Ratio |
| | | |
| Nordea | 17.6 | 19.2 |
| SEB | 17.1 | 18.9 |
| SHB | 20.1 | 23.4 |
| Swedbank | 21.9 | 24.6 |
Nordea's decision to move its headquarters to Finland, the only Nordic country in the euro zone and bank union, means Sweden will lose direct regulatory control of the region's sole global systemically important bank. Oversight of Nordea follows its headquarters after management this year converted the bank's Nordic subsidiaries into branches.
Authorities in Sweden are now voicing dismay at the prospect of having a systemically important branch in their backyard, but fewer regulatory powers to rein it in.
The head of the Swedish FSA, Erik Thedeen, told Dagens Industri he wants Nordea to continue to live up to Sweden's stricter capital requirements. Given that Nordea faces a tougher treatment of its risk weights in the bank union than it did in Sweden, the absolute capital level may not be that affected by the move, analysts have calculated.
Sweden's regulator has opposed binding capital floors and leverage ratios, and argued that the solution to banks' gaming the system is to improve risk modeling. It's also set high capital requirements based on risk-weighted assets, pushing reported ratios by the country's banks to the highest levels globally.
Sweden still holds that view -- that regulations should be based on risk -- but will need to reconsider how to implement it, Bolund said.
Changes being considered in the EU could cut as much as 200 billion kronor ($25 billion) off capital requirements for Sweden's biggest banks, according to an April report by the country's regulator and resolution authority. The agencies warn that the measures under consideration would also make a breach of minimum requirements more likely, by shrinking the buffer ratio relative to total capital.
"When the negotiations are completed we need to make an assessment of how that will affect the approach we currently have," Bolund said.
Nordea's departure may mean banks remaining in Sweden will pay less into the country's resolution and deposit guarantee funds. Bolund says a smaller financial industry, all things being equal, means less risk for the Swedish taxpayer.
"With a large banking system, Sweden's commitment increases," Bolund said. Nordea's relocation "will reduce Sweden's commitments in this regard."
Before it's here, it's on the Bloomberg Terminal.
LEARN MORE