Macri Readies Tax, Fiscal Bills for Post-Election Drive
By and
Government will send four key proposals to congress on Nov. 1

Macri's government confident it can reduce fiscal deficit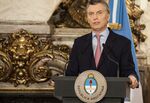 President Mauricio Macri will submit at least four bills to Argentina's congress after mid-term elections next month to reignite the economic agenda he put on hold in the run-up to the Oct. 22 balloting.
The proposals include changes to the fiscal and tax systems, and an amnesty for employers who don't register workers, according to a senior member of the government who asked not to be named because the plans aren't yet public. The government is also preparing a capital markets bill that will be dubbed "productive development," the person said. All the proposals will be submitted Nov. 1, the person said.
Macri's project to open up Argentina's economy to foreign investment has been on stand-by this year amid congressional elections that some investors are treating as a measure of appetite for politically sensitive reforms. The government is confident it will win the elections after its coalition, Cambiemos, did better than expected in August primaries nationwide, but will continue to advocate for gradual changes as it tries to convince Argentines to move away from supporting 70 years of protectionist policies, the person said.
One of the government's most pressing challenges after the elections next month will be to persuade investors it can close an overall fiscal deficit that is expected to reach 6.2 percent of gross domestic product this year from 5.9 percent in 2016, according to JPMorgan Chase & Co. The government will continue to cut subsidies on gas and electricity bills with the aim of reducing their weight on the budget to zero percent of gross domestic product by 2020 from 4 percent when Macri assumed office, the person said.
Economic growth can help: one percentage point of economic growth can shave 0.2 percentage point off the deficit, the person said. A bill sent to congress to cap spending increases by provinces to match inflation will also work to narrow the budget gap, the person said.
Before it's here, it's on the Bloomberg Terminal.
LEARN MORE