At Jefferies, Like Wall Street, Trading Cedes to Banking
By and
Trading revenue fell to worst since first quarter of 2016

Investment-banking revenue at the firm surges 61% to a record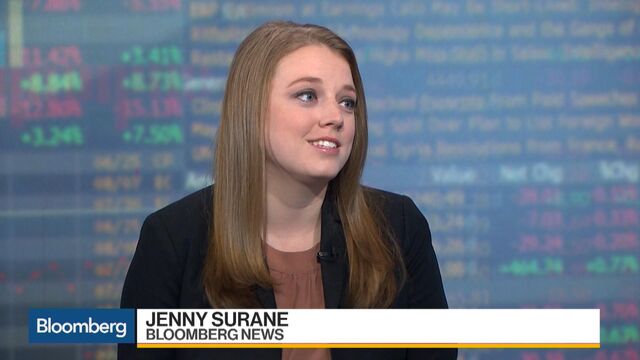 Jefferies Group, like its Wall Street competitors, is leaning on investment banking to weather a trading slump.
The firm's revenue from trading dropped in the three months through August to the lowest in six quarters, a sign that an industrywide decline in transactions is worsening. The quarter was saved by investment banking, where fees surged 61 percent to a record $475.7 million.

That matches what's been happening on the rest of Wall Street. In the first six months of 2017, the five largest U.S. investment banks -- JPMorgan Chase & Co., Bank of America Corp., Citigroup Inc., Goldman Sachs Group Inc. and Morgan Stanley -- posted combined investment-banking revenue of $15.3 billion, a 20 percent increase from the same period a year earlier. Trading revenue of $39.5 billion was little changed.
"You're getting more deals and bigger deals getting announced and banks are doing the underwriting for those," Charles Peabody, a banking analyst at Compass Point Research & Trading, said Tuesday in a telephone interview. Also, with investors continuing to search for yield, corporations are tapping public debt markets rather than relying on loans, he said.
Jefferies was traditionally considered more of a trading house. Five years ago, for example, its revenue from dealing stocks and bonds was almost double what its bankers generated.
Investment banking results in the quarter were driven by bond underwriting and the advisory business. Revenue from the debt capital-markets unit more than doubled to a record $186.3 million, while advisory fees rose 32 percent to $203.4 million.
"We have been focused on building our investment-banking business for many years, with the last two years affording us yet another important opportunity to recruit and expand upon our already broad footprint," Chief Executive Officer Richard Handler said in a statement. "The continued successful development of our investment-banking platform should lead to greater stability in our results and compounding benefits to our overall platform."
Jefferies's profit more than doubled to $83.8 million as net revenue advanced 22 percent to $800 million, the best third quarter in the firm's history. Leucadia National Corp., Jefferies's parent, jumped 3.6 percent to $24.20 at 11:44 a.m., the best performance in the 67-company S&P 500 Financials Index.
Read more about Wall Street's enduring bond slump
Executives at rival banks have so far delivered a worrisome message about the third quarter: The lack of client activity that sank trading revenue in the second quarter has continued.
Jefferies's results only added to the pessimism. Trading revenue at the firm dropped 7 percent to $319.5 million, the worst since a particularly bad start to 2016, when Jefferies generated less than $60 million from trading in the first quarter. Bond-trading revenue fell 27 percent from a year earlier, while equity trading posted a 19 percent jump.
JPMorgan, Citigroup and Bank of America are seeing declines in trading revenue ranging from 15 percent to 20 percent in the third quarter from the same period a year ago, executives told investors last week at a conference in New York. Goldman Sachs didn't put a number on its performance, though co-President Harvey Schwartz lamented "a pretty challenging environment" for fixed income, currency and commodities. Those firms end their quarters and report their performance a month later than Jefferies.
— With assistance by Felice Maranz
Before it's here, it's on the Bloomberg Terminal.
LEARN MORE