Doctors, Hospitals Oppose GOP's Latest Obamacare Repeal Effort
By and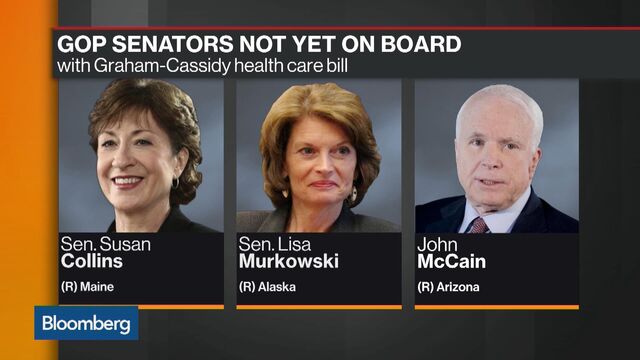 The latest Republican Obamacare repeal effort is getting as much support from doctors and hospitals as the last one did -- which is to say, not much.
On Tuesday, the American Hospital Association joined the growing list of groups that oppose the latest effort, which would replace much of Obamacare with a set of grants to states. The AHA says it represents about 5,000 hospitals, making it one of the biggest health-care trade organizations in the U.S.
"Coverage could be at risk for tens of millions of Americans under the Graham-Cassidy proposal," the hospital group said, referring to the bill's two main sponsors, Republican senators Lindsey Graham and Bill Cassidy. The AHA said the bill does "nothing to stabilize the insurance market now or in the long term."
Many of the groups now opposing the Graham-Cassidy bill were backers of Obamacare when it was passed in 2010, and have opposed any major repeal effort. Here's a list of some of the health-care groups that have come out against the latest measure:
American Hospital Association
American Medical Association
American College of Physicians
American Academy of Family Physicians
American Academy of Pediatrics
American Cancer Society Cancer Action Network
American Diabetes Association
American Heart Association
American Lung Association
Association of American Medical Colleges
Arthritis Foundation
Cystic Fibrosis Foundation
Children's Hospital Association
March of Dimes
National Multiple Sclerosis Society
National Organization for Rare Disorders
Before it's here, it's on the Bloomberg Terminal.
LEARN MORE