Die-Hards Are Looking for Way to Buy the Emerging-Market Currency Selloff
By and
Credit Agricole and Invesco say any dips likely to reverse

Global central banks seen removing stimulus at moderate pace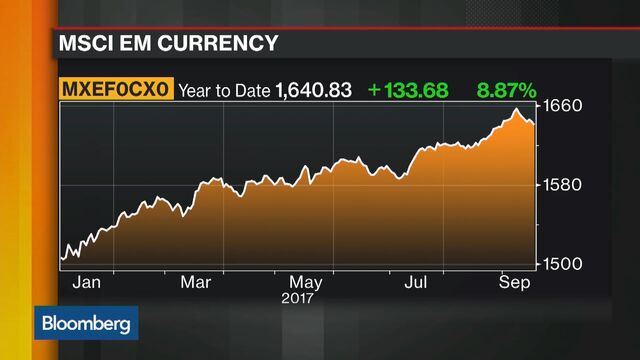 Emerging-market currency bulls are eyeing the recent selloff as a reason to buy.
After a gauge posted the biggest weekly decline since early March, money managers and strategists from Credit Agricole SA to Invesco Ltd. see an opportunity to add to holdings. They say healthy global growth, firmer commodity prices and a relatively stable Chinese economy will help drive gains, even as interest rates tick up in Europe and the U.S.

Developing-nation currencies have pared their best annual advance since 2009 amid renewed speculation that the Federal Reserve may raise borrowing costs again before the end of the year, potentially sapping the appeal of higher-yielding assets. Traders are overestimating the potential fallout from slow and deliberate interest-rate increases given the sturdy fundamentals that support emerging economies, according to Rashique Rahman, the head of emerging-market debt at Invesco whose fund has beaten 80 percent of peers this year.
"The still-favorable fundamental backdrop would argue for increasing exposure to select EM local markets", he said in an interview from Atlanta. Rahman favors Indonesia and Mexico and, to a lesser extent, Peru and Russia.
Traders lifted the odds of a Fed rate hike by the end of the year to as high as 46 percent last week from roughly 27 percent on Sept. 8 after U.S. inflation data exceeded estimates. And while higher interest rates are traditionally a drag on emerging-market assets because they boost payouts on developed-world securities, borrowing costs have been so low for so long that a slight increase will still leave them far below historic averages.
The MSCI Emerging Markets Currency Index dropped 0.2 percent at 12:18 p.m. in New York.

Here's what some other analysts are saying:
Lucy Qiu, an emerging-market strategist at UBS AG:
Recommends buying the Russian ruble and the Mexican peso with euros and dollars.
Sees emerging markets supported by outlook for fastest economic growth in four years and improved current-account data.
Emerging markets are "stronger on both the balance-sheet side and the growth side."
Guillaume Tresca, a senior emerging-market strategist at Credit Agricole:
Even with slightly higher U.S. rates, buying high-yielding currencies with money borrowed in countries with lower rates will continue to pay off.
"It is all about the carry trade again."
Credit Agricole strategists recommended going long on Indonesian rupiah, Indian rupee and offshore Chinese renminbi in a report last week
David Kohl, chief currency strategist at Julius Baer:
Recommends the Indonesian rupiah, the Indian rupee and the Mexican peso.
Expects U.S. to raise interest rates in December, then again in first quarter of 2018.
"In case of a selloff we would first watch if USD sentiment becomes excessively positive again. This would be an appropriate time to add more EM FX," he said.
Before it's here, it's on the Bloomberg Terminal.
LEARN MORE