Defensive Stocks Too Expensive for Kotak in Booming India Market
By
FMCG valuation leaves no margin of safety, CIO Upadhyaya says

Cement producers, capital goods enjoy operating leverage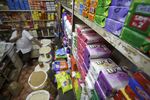 It's getting costly to play defense in India's record-breaking stock market.
Producers of soaps, toothpaste, hair oil and home appliances -- so-called fast-moving consumer goods, or FMCG -- are among the most expensive shares in India, driven in part by investors who have fled drugmakers and technology firms, the once favorite growth stories now buffeted by industry headwinds.

"At this point of time, I don't think prices of FMCG stocks are defensive," said Harsha Upadhyaya, chief investment officer of equities at Mumbai-based Kotak Mahindra Asset Management Co. "Their business is defensive but the entry point doesn't give you comfort."
For Upadhyaya, who manages the equivalent of $2.5 billion, that means shifting into sectors such as cement, energy and autos to avoid the staggering valuations of consumer giants like Hindustan Unilever Ltd. and Marico Ltd. that trade at more than 44 times 12-month estimated earnings.
Cement makers, he said, enjoy pricing power as the wave of consolidation has left the industry with fewer players. The Kotak Select Focus Fund, which has beaten 87 percent of its peers with a 22 percent annual return over the past five years, last month boosted its holdings of UltraTech Cement Ltd., India's top producer of the material, and Shree Cement Ltd.
Click here to read more about India's cement industry
Oil and gas companies account for 8.8 percent of the fund's 135 billion rupees in assets -- the second-highest allocation after banks -- and automakers make up 6.3 percent, according to data compiled by Bloomberg.
Kotak Mutual Fund cut holdings in companies including biscuit maker Britannia Industries Ltd. and Tata Global Beverages Ltd., data at the end of August show. Britannia shares trade at 51 times one-year forward earnings after surging to a record, while Tata Global is valued at a multiple of 28, the highest in at least a decade.
'Overpaying'
With the S&P BSE FMCG Index and the S&P BSE India Consumer Durables Index each trading at 40 times reported profits -- compared with 24 for the benchmark S&P BSE Sensex -- the margin of safety is thin.
"If you are already overpaying, you have to be doubly sure that the earnings growth will come," Upadhyaya said. "Even if there's a bit of a negative news on earnings, valuations can contract quickly."
And earnings growth has been the missing piece of the rally that's made the Sensex Asia's second-best performer this year. The "disconnect" between the lofty valuations and weak profits is likely to continue, Upadhyaya said, amid all the liquidity sloshing around.
Click here to read more about India's earnings outlook
Local investors poured 614 billion rupees into equity funds in the April-August period, more than triple from a year earlier, after last year's cash ban damped returns from property and gold.
Earnings for "quarters ending in September, December and March should get progressively better compared with this June but the quantum of improvement may not be as much as the consensus expectation," he said. "We're advising investors not to chase momentum at all."
Before it's here, it's on the Bloomberg Terminal.
LEARN MORE