Carney's 200 Billion Reasons to Fret About Consumer Debt
By and
BOE stability officials hold quarterly meeting this week

Easy access to loans, credit cards fueling debt binge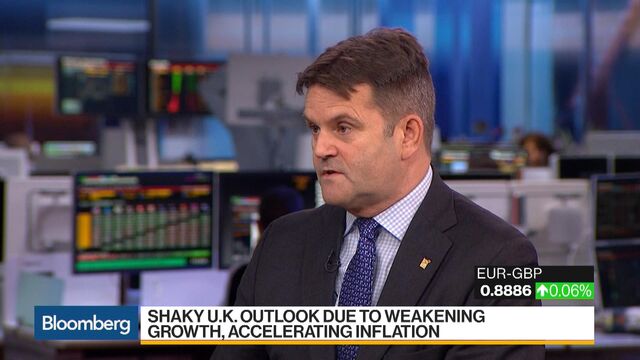 Bank of England Governor Mark Carney has 200 billion reasons to keep an eye on consumer borrowing and he's about to find out just how concerned he should be.
With household credit rising five times faster than earnings, alarm bells are ringing and regulators have fast-tracked part of their annual stress tests to get an insight into the resilience of banks to a sharp jump in defaults. Carney and his Financial Policy Committee will have that crucial information when they gather for their quarterly meetings this week.

Unsecured debt totaled 202 billion pounds ($274 billion) in July, the highest since 2008, having risen by almost 10 percent over the past year. While that's only a fraction of total household borrowing, officials are worried that people in financial distress would choose to default on personal loans and credit cards rather than mortgages. The question is whether they see that as a threat to overall financial stability.
The BOE has already taken action, increasing a capital buffer for banks and winding down a Brexit stimulus measure designed to support lending. Now officials are talking about raising interest rates for the first time in more than a decade. Even a modest tightening may make some more cautious about taking on extra debt.
"Household debt levels, consumer credit growth growing pretty strongly, concerns about car finance -- we're likely to see a continuation of concerns expressed," said Chris Hare, an economist at HSBC. "But again, with all of those things, we're not quite sure whether the FPC is worried about that as a real existential risk to the financial system as a whole."
Part of the issue relates to car buying, with Personal Contract Purchase plans -- a form of hire purchase -- now dominating the market. The Financial Conduct Authority is reviewing these because it's worried about "irresponsible lending."
It's also cheaper and easier to get a personal loan -- borrowing costs are half of what they were five years ago. And there's a choice of zero-percent interest on balance transfers, which can encourage people to rack up unsustainable debts.
All are "classic signs of lenders thinking the risks are lower," Alex Brazier, a top BOE financial-stability official, warned in a headline-making speech over the summer.

The FPC will publish a statement on Sept. 25 saying what, if any, action it decided to recommend. In the past week, some members have hinted that some response is imminent. Former Federal Reserve Vice-Chairman Donald Kohn said there are "concerns that loans may be made now that people will have trouble repaying."
In a worrying development, default rates jumped in the second quarter, according to BOE data. Part of the reason may relate to why people are borrowing. Faster inflation and falling real wages could be pushing more people to take out debts just to maintain their standard of living.
Figures published Wednesday showed that retail sales rose at their fastest pace in four months in August, mainly driven by spending on items such as watches and jewelery, a possible result of the weak pound attracting overseas buyers. There were signs of weakness in sales of clothing, footwear and household goods, however.

For banks, fierce competition has pushed down interest margins and underwriting standards have slackened, according to the Prudential Regulation Authority. As part of the stress tests, it's asked lenders to review their models and consider what a "step-change" in the default rate would mean.
"Within the overall picture of credit growing in line with the economy, a pocket of risk has emerged," Brazier said in July. "Lenders have not entered, but they may be dicing with, the spiral of complacency."
Before it's here, it's on the Bloomberg Terminal.
LEARN MORE