Cable Says Volatile and 'Dangerous' Trump Must Stay Out of U.K.
By
Leader of Liberal Democrats speaks on day of Trump's UN speech

74-year-old is vocal on preventing state visit by U.S. leader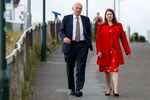 Vince Cable, the leader of the most pro-European of British parties, had several choice words to describe Donald Trump: volatile, dangerous and an apologist for racial hatred.
Cable, 74, is addressing his Liberal Democrats in Bournemouth, on England's southern coast on the same day Trump, 71, will give his speech to world leaders at the United Nations. At the helm of a party whose fortunes have waned, Cable has embraced the cause to reverse Brexit and that of stopping the U.S. president from coming to Britain to draw supporters.

"It is both extraordinary and unforgivable that the government is entrusting the future of this country, its trade policy, its security, its standing in the world to a special relationship with a president who is volatile, dangerous and an apologist for religious and racial hatred," Cable will say on the closing day of his party's annual conference on Tuesday.
While his speech will attract a limited audience -- with all eyes on Trump and the drama unfolding around Prime Minister Theresa May -- Cable is a known figure in British politics from his time in a coalition government led by David Cameron, who went on to call the 2016 Brexit referendum.
Read our profile of Vince Cable when he took over as leader of LibDems
Cable is determined to try and reverse Brexit and loves taking cracks at Trump, whose planned state visit to Britain is deeply unpopular and keeps getting postponed.
Cable mocked Trump as an inhabitant of "infantile fairy tales," joking to delegates: "I'm sure you know the one about the 'Giant Tweeter' who lives in a White House far away and who flies across the ocean to rescue us from the wicked gnomes of Europe."
Before it's here, it's on the Bloomberg Terminal.
LEARN MORE