Banks Hire Lazard to Solve Turkey's Biggest Default
By , , and
Turk Telekom majority shareholder Otas took $4.75 billion loan

Turkish Treasury has given company 60 days to resolve matter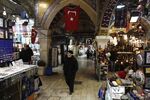 Banks that provided a $4.75 billion loan to Turk Telekomunikasyon AS's major shareholder hired Lazard Ltd. to advise them on the nation's biggest ever default, according to three people with knowledge of the matter.
The creditors also hired Raiffeisen Investment AG to advise in negotiations over the loan taken out by Ojer Telekomunikasyon AS, or Otas, which owns 55 percent of Turk Telekom. Other parties to the talks are the Turkish Treasury, which also has a stake in the company, and Saudi Telecom Co., which indirectly owns shares, the people said.
Spokesmen for Turk Telekom, Otas and Raiffeisen declined to comment, while Lazard officials didn't immediately respond to a request for comment.
The companies have been locked in talks for almost a year after Otas failed to pay a September 2016 installment on the loan, the country's biggest ever syndicated facility. Otas struggled to make the dollar-denominated loan repayments after a slump in the Turkish lira dented the value of the company's local earnings.
"The Treasury has certain rights in the management of Turk Telekom and it will do whatever is needed to do with regard to the ownership and management," Ahmet Arslan, Turkey's transportation, communications and maritime minister, told reporters in televised comments in Ankara on Wednesday. "The ownership issues should not be confused with the company's operations, which are growing."
Saudi Offer
The creditors have until early October to consider an offer from Saudi Telecom to inject $750 million into Otas and restructure the remaining $4 billion of debt into two new loans. The Turkish Treasury, which has a 25 percent stake in the operator, gave Otas 60 days from early August to find a solution to the debt debacle; otherwise it may take control of the company's management, people familiar with the matter have said.
Turk Telekom's shares rose as much as 1.5 percent on Wednesday before reversing the gains to trade 0.5 percent lower at 6.55 lira as of 12:13 p.m. in Istanbul. The stock has advanced 24 percent this year, lagging behind the Borsa Istanbul 100 Index, which is up 35 percent.
"After last week's 6 percent decline in Turk Telekom shares, some investors may have seen the news as a positive catalyst," said Alper Ozdemir, an analyst at Oyak Securities in Istanbul. "That said, this news has more to do with the banks and almost no direct fundamental impact for Turk Telekom, unless it leads to an ownership change."
Otas has missed two installments of $290 million each on the loan it took out in 2013 from 29 Turkish and international banks. Akbank TAS is owed about $1.5 billion under the facility, Turkiye Garanti Bankasi AS around $1 billion and Turkiye Is Bankasi AS about $500 million, according to public filings.
— With assistance by Tugce Ozsoy
Before it's here, it's on the Bloomberg Terminal.
LEARN MORE