Airbus Chooses China for First Overseas Wide-Body Jet Plant
Bloomberg News
COO Bregier opens A330-model completion center in Tianjin

Facility is designed to roll out two aircraft a month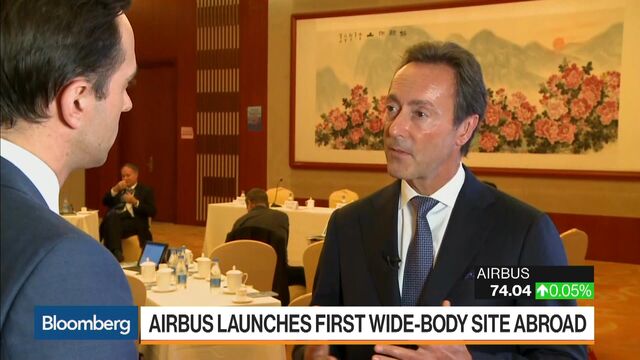 Airbus SE is courting China with its first wide-body jet facility outside Europe, positioning the company to chase billions of dollars in potential orders from an aviation market that's set to become the world's biggest within a decade.
On Wednesday, Chief Operating Officer Fabrice Bregier inaugurated the $200 million completion center in Tianjin, a site designed to give finishing touches such as painting and cabin installation to A330 aircraft. The city, near Beijing, is already home to an assembly plant that produces single-aisle A319s and A320s. 
"There's a direct connection between your investment, your capabilities to demonstrate that you care about the Chinese industry and at the same time your market access," Bregier told Tom Mackenzie in a Bloomberg Television in Tianjin on Wednesday. To prove his point, he said the planemaker's market share has risen to almost 50 percent from 20 percent since their investment in the narrow-body assembly plant. 

In a race to earn Chinese goodwill, Airbus and Boeing Co. are moving parts of their manufacturing and supply chains to a country the U.S. company estimates will need $1.1 trillion of aircraft over two decades and where the government still makes key purchasing decisions. For China, which has its own aviation ambitions, the A330 center is a coup of sorts in its chase to build its own commercial planes.
The Toulouse, France-based maker may even look at adding A350s to its China plan in the future, Bregier said. As traffic surges, the country needs more wide-body aircraft, he said, pitching for the A380 that hasn't found much demand beyond the five flying in China.
Made in China
Besides the political decision to woo China, where policy makers want companies to manufacture locally under a "Made in China 2025" blueprint, the two aerospace giants are also moving delivery closer to customers in Asia to help ease the strain on the planemakers' existing facilities. The first A330 off the new line will go to Tianjin Airlines. The facility aims to roll out two planes a month in a year.
Airbus is also building a helicopter plant in the coastal city of Qingdao while Boeing has started construction of a finishing center for its 737 narrow-body jets on Zhoushan island south of Shanghai. Besides these facilities, the two are also in joint ventures with units of state-owned Aviation Industry Corp. of China, or AVIC, to supply aircraft parts.
"China naturally wants to capture back some of the value in its purchases," said Will Horton, a senior analyst at Capa - Centre for Aviation in Hong Kong. "Assembly and outfitting are a small portion of an aircraft's total value, and something Airbus and Boeing can part with in order to build their relationships in China."
Will 'Made in China' threaten Boeing and Airbus? Click here to read more
China has placed billions of dollars in orders with the companies. In July, Airbus won contracts worth $22 billion to supply state-owned China Aviation Supplies Holding Co. with 100 of the A320-series jets and 40 of its latest twin-aisle A350s. In 2015, planemakers won orders valued at $102 billion for some 780 aircraft.
A travel boom is making China a lucrative market for planes that can fly short and long haul. The number of people flying to, from and within China will almost double to 927 million by 2025, and reach 1.3 billion by 2035, according to the International Air Transport Association.
"China has always been thinking about being involved in all aspects of the aviation industry," said Mohshin Aziz, an analyst at Maybank Investment Bank Bhd. in Kuala Lumpur. "Manufacturing is the last part they need to build on, but it's also the most difficult part. Having a center for both wide- and narrow-body aircraft will be good for China."
— With assistance by Dong Lyu, and Kyunghee Park
Before it's here, it's on the Bloomberg Terminal.
LEARN MORE