Abe Won't Waver on Sales Tax in Election, Economic Adviser Says
By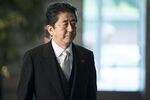 Japanese Prime Minister Shinzo Abe won't waver from his current stance to raise the sales tax if he calls a snap election, according to Motoshige Itoh, a member of the government's economic and fiscal policy council.
Japan's economy is in the middle of its longest expansion in more than a decade and is exceeding its growth potential rate, boosted by the effects of government stimulus passed last year. That's made it easier for Abe to stick with the tax increase, Itoh, 65, said in an interview on Tuesday.
"He won't cancel the tax hike as part of his campaign platform," said Itoh, professor at Gakushuin University in Tokyo. "That would be a huge change if he decided to do so."
Itoh's comments come as speculation mounts that Abe plans to dissolve parliament and hold an election in late October in an attempt to take advantage of opposition disarray and a rebound in support.
Abe's ruling Liberal Democratic Party may adjust their language on the sales tax hike depending on what the opposition says, but it's unlikely that Abe will make a final call on whether to raise it or not this year, and the current government stance allows him to cancel the increase should downside risks emerge, according to Itoh.
The tax is scheduled to rise to 10 percent from 8 percent in October 2019 after Abe delayed it twice. A previous increase pushed the economy into a recession.
If the ruling coalition wins a two-thirds majority, Abe may step up his efforts to change the nation's pacifist constitution. Gaining public support for that would require Abe to reboot his economic revitalization efforts as well, Itoh said.
The initial effect of the Abenomics economic policies have supported the Abe administration, Itoh said. "I think he has a strong inclination to focus on economic policy again when it comes to securing public support."
Before it's here, it's on the Bloomberg Terminal.
LEARN MORE