Japan's Abe May Perform a Tax U-Turn For Snap Election
By and
Premier considering early poll, party No. 2 tells reporters

Abe to seek to earmark extra $9bn for education, Nikkei says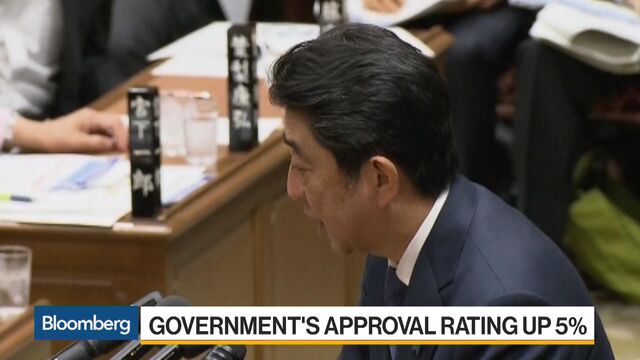 Japanese Prime Minister Shinzo Abe may delay a target for reining in Japan's ballooning debt, because he wants to divert some of the proceeds of a planned sales-tax increase to fund education and support young families.
Ahead of an expected general election next month, Abe is set to pledge to push ahead with the hike in the unpopular tax to 10 percent in October 2019 from the current 8 percent. The increase was originally intended to help the nation cover the ballooning cost of caring for its aging population.
Abe has already put it off twice, in 2014 and 2016 -- before national elections on both occasions. Previous hikes in the levy have sunk the world's third-biggest economy into recession, but six straight quarters of expansion and very low unemployment would make it hard to justify a further delay to the tax, and one of his economic advisers said on Tuesday that Abe would stick with his promise to raise it during any election campaign.
Read about how North Korea may help Abe in any election
Abe is planning to drop a 2020 target to turn the primary budget balance to surplus because he wants to earmark an extra one trillion yen ($9 billion) for education, the Nikkei newspaper said Wednesday.

"He doesn't have any choice" but to raise the tax, said Jun Okumura, a visiting scholar at the Meiji Institute for Global Affairs. "The economy is going swimmingly, so he would have no reason to back away from it this time."
Okumura said any sense that tax revenue is being frittered away, or that Abe is seeking to divert attention from the need to control spending on the elderly, would draw criticism from fiscal hawks.
Finance Minister Taro Aso on Tuesday warned that the government needs to maintain its efforts to achieve fiscal consolidation. The nation's debt is more than double its gross domestic product, but the spending plan may have little effect on markets.
"The primary balance surplus was an impossible target in the first place, and the markets had already mostly priced in the idea that Japan won't be able to achieve it," said Yuichi Kodama, chief economist at Meiji Yasuda Life Insurance Co. in Tokyo.
New York Speech
Abe is set to talk about his economic plans in a speech to investors in New York on Wednesday. He'll then announce the snap election at a news conference on Sept. 25, the broadcaster FNN said Tuesday, without saying where it got the information.
Under his government inflation hasn't risen to the target of 2 percent inflation, despite ultra-loose monetary policy under Governor Haruhiko Kuroda's Bank of Japan. Even so, the economy grew 2.5 percent in the second quarter and the jobless rate is under 3 percent.
"The upcoming election is likely to define the direction of the Abe administration," said Shinichi Ichikawa, chief market strategist at Credit Suisse Securities Ltd.
Read how Japan's economy remains on a growth path
The central bank is likely to keep policy easy, said Ichikawa. "It's desirable for the BOJ to start thinking about an exit strategy at some point, but I don't think it's likely to move in that direction under the Abe administration."
Party Talks
"He is considering an early election," Toshihiro Nikai, secretary-general of the ruling Liberal Democratic Party, told reporters Tuesday after meeting Abe the previous day. Asked about reports on the tax hike, he said it was a "matter of course" for the party to discuss the issue and present a policy to the people.
Abe has declined to confirm reports that he'll call the election for Oct. 22, but said Monday he'd make a decision after returning from New York on Friday. He can call an election at any time before December 2018.
His prospects look positive. Recent opinion surveys show his support recovering from damage wrought by a series of cronyism scandals. His hard line on the growing North Korean threat has proven popular, while the main opposition Democratic Party is splintering and falling into deeper disarray.
In a poll published Tuesday, the conservative Sankei newspaper found support for Abe's cabinet at 50.3 percent, up 6.5 percentage points from last month, while his disapproval rating fell 9 percentage points to 40 percent. Support for the LDP was at 38 percent, but in single figures for all other parties.
Potential Threat
One potential threat to the ruling coalition's two-thirds majority in the lower house is a fledgling party being formed with the support of populist Tokyo Governor Yuriko Koike, whose group thrashed the LDP in local elections in the capital in July.
A national party may be formed by the end of the month, and the group plans to run candidates in all the constituencies in Tokyo, local media reported.
The new party "definitely has a chance of making significant inroads in Tokyo, to the detriment of the DP as well as the LDP," Okumura said. "It depends how quickly they can put together a coherent slate of candidates and a coherent national program."
— With assistance by Yuko Takeo
Before it's here, it's on the Bloomberg Terminal.
LEARN MORE