A Stock Investor's Guide to the German Election
By
Tech, real estate seen benefiting from likely outcome

Gains by leftist parties, AfD would harm German equities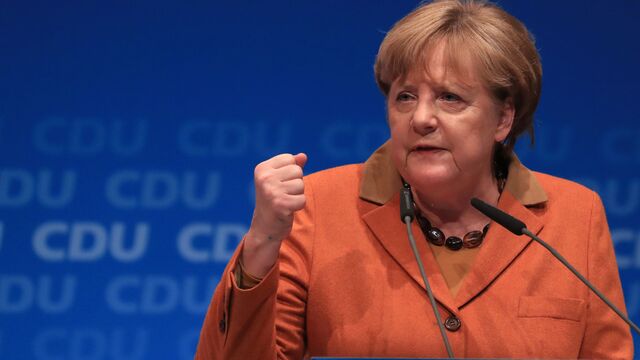 Investors have reason to look forward to Sunday's elections in Germany: The ruling Christian Democrat Union-led bloc is likely to come out ahead and deal another blow to the European populist movement that captivated markets' attention ahead of the French and Dutch votes this year.
The nature of the coalition that emerges after Sept. 24 is less easy to identify, as a CDU-led bloc will likely need to find a partner with whom to form a government. According to the Bloomberg poll tracker, support for Chancellor Angela Merkel's bloc stands at 36.5 percent, followed by 21 percent for Martin Schulz's Social Democrats.

With the benchmark DAX Index up about 9 percent this year, outpacing the gain of the Stoxx Europe 600 Index, a continuation of Merkel's rule could mean more of a good thing for fund managers. The lack of a major populist risk also gives them reason to be optimistic about the future of the European Union in a year that saw euro-skeptic candidates gain prominence.
"If the German election resolves itself with Merkel firmly in charge, the perception of Europe among some investors as a region of growing iconoclasm will largely be put to sleep," Ken Odeluga, a market analyst at City Index in London, said by phone. "While different sectors will be driven by the specific coalition created, broadly the DAX Index could get a boost, and euro-zone equities would benefit in the medium to long-term from the integration she advocates."
A coalition between the CDU-led bloc and the pro-business Free Democratic Party, which polls say has about 9 percent of the vote, would be the most market-friendly outcome, while a left-wing government could result in stock losses, investors say.

Here is a breakdown of the equities fund managers and analysts say could gain or lose under different election scenarios:
CDU/CSU & FDP

Traders and analysts broadly agree that a tie-up between Merkel's CDU-led bloc and the Free Democratic Party -- which supports tax cuts and more spending on education -- could boost the technology sector as well as the shares of domestically oriented construction and real estate firms.
The FDP has criticized Germany's weak digital infrastructure, poor start-up climate and highly restrictive data privacy policies it says hold back the country's competitiveness, while the CDU-led bloc pledges a nationwide expansion of broadband and 5G networks, targeting rural areas.
This coalition also promises the greatest stimulus for construction and real estate companies, says Warburg Research. The parties are pledging new housing units and a slew of measures to make home ownership more attractive, including tax exemptions and subsidies for families.
Winners:
Deutsche Wohnen SE, Vonovia SE, Helma Eigenheimbau AG, Hypoport AG, RIB Software SE and United Internet AG could gain, according to Warburg
Tech-oriented DAX members include Siemens AG, SAP SE, Deutsche Telekom AG and Infineon Technologies AG. Michael Woischneck, a senior equities manager at Lampe Asset Management in Dusseldorf, noted a CDU-led bloc tying up with the FDP would also help boost Germany's start-up scene.
'Jamaica' Coalition (CDU-led bloc, FDP and Green Party)
A so-called "Jamaica" coalition, a name referring to the black, yellow and green colors of the Jamaican flag and the parties' colors, could weigh on the auto industry, Guillermo Hernandez Sampere, head of trading at MPPM EK in Eppstein, Germany, said by phone. The environmentalist Green party has criticized the government's response to the diesel emissions scandal that broke in 2015 and pledged to shift away from the combustion engine by 2030. Merkel may explore this governing option if she wins but the German vote has fragmented significantly.
Another Grand Coalition
A continuation of the current "grand coalition" between Merkel's CDU-led bloc and Schulz's Social Democratic Party, an option that would probably command the biggest majority, could also continue to benefit domestic stocks, as well as financials and autos.
"We see a domestic angle to this election," Felix Huefner, the Frankfurt-based senior European economist and chief German economist at UBS Group AG, said by phone. "The domestic demand and consumption themes are key, based on the expectation that we get some tax relief."
Winners:
The auto industry: Both parties recognize the industry's importance to the country, despite the scandals, according to Hernandez Sampere. Merkel has pledged to avoid a ban on diesel vehicles and said that diesel and combustion engines will be around for decades to come.
Domestic stocks: The CDU-led bloc, SPD and FDP have pledged tax relief ranging from 10 billion euros ($11.9 billion) to 30 billion euros, which represents up to 1 percent of gross domestic product. Deutsche Wohnen, Drillisch AG and Sixt SE are among buy-rated firms that fit these themes, according to UBS. Warburg flags Adler Modemarkte AG, Cewe Stiftung & Co. KGaA, Hornbach Baumarkt AG, Stroer SE & Co. KGaA, Tom Tailor Holding SE and Zalando SE as buy-rated companies set to benefit as disposable income grows.

Left-Wing or AfD Gains
With polls showing support for the center-left Social Democrats plumbing historic lows, an SPD-led coalition looks highly unlikely. Still, greater-than-expected gains for the SPD, the anti-capitalist left party -- which has pledged to make all banks publicly owned and end German "hegemony" over the EU -- or the AfD would harm equities, investors and analysts say. A result so fragmented as to leave too many options open would also hurt equities Monday morning.
Losers:
Autos and financials, according to Hernandez Sampere and Woischneck
European equities as a whole, as limbo could damp the case for a more politically stable region.
"The risk is that Merkel loses or is not in a coalition that works in favor of her pro-European stance," Nandini Ramakrishnan, a strategist at JPMorgan Asset Management in London, said by phone. "It's that Germany loses its momentum as the engine of the euro-zone, that it doesn't work as well with France or that it doesn't maintain the sense of Europeanism."
Before it's here, it's on the Bloomberg Terminal.
LEARN MORE