UBS Wealth Has Good Things to Say About EM, Not South Africa
Filipe Pacheco, Justin Carrigan and Dana El Baltaji
Bolliger is underweight on South Africa credit, rand, stocks

Bullish on Russia, Turkey and Egypt, which is a 'great story'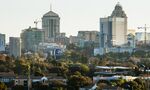 There's one emerging market country that Michael Bolliger can't get bullish about at the moment: South Africa.
President Jacob Zuma is fighting to stay out of court before the African National Congress votes for a new leader in December. He's pushing for his ex-wife to succeed him, but most analysts in a Bloomberg survey think the nation's Deputy President Cyril Ramaphosa will probably be the one who does. It's more noise for a market that has already paid a price for political wrangling when it lost two of its investment ratings in April.
"Political decisions typically don't play a major role in our investment decisions, but in South Africa's case, it's an exception due to the very binary nature of the outcome," Bolliger, who oversees more than $2 trillion for clients as the head of emerging-market asset allocation at UBS Wealth Management, said in an interview in Bloomberg's office in Dubai.
Read More: KPMG Slammed by South Africa's Pravin Gordhan on Tax Report
The rand, which was one of the world's best performing currencies for most of the first quarter, isn't among emerging nations' top 10 gainers this year.
Aside from South Africa, Bolliger is bullish on developing equities, even after companies handed investors gains of about 20 percent in the second quarter of 2017 on a yearly basis, compared to about 12 percent for those based in the U.S. The MSCI Emerging Markets Index has advanced almost 30 percent in 2017, boosting the gauge's price-to-earnings ratio over the next 12 months on Monday to the highest level since January 2010.
SOUTH AFRICA
He's underweight on credit, the rand and equities.

"The political situation is going to weigh on growth and growth prospects"
"The ANC congress in December is going to be absolutely crucial. And moving into that, we might cut back some of our underweights. Political decisions typically don't play a major role in our investment decisions, but in this case, it is an exception, due to the very binary nature of the outcome"
"In a scenario in which Cyril Ramaphosa or another market-friendly leader wins and comes out as the new ANC leader, the rand could easily rally to 12.50 (per U.S. dollar) or even below, and the equity market could go through the roof"

Rand declined 1 percent at 6:54 p.m. in Johannesburg to 13.2899 per dollar
RUSSIA
Bolliger is overweight the ruble and equities, which are pay attractive dividend yields and trade at decent valuations compared to many emerging markets

"We like the Russian equity market because we believe the economy has finally turned the corner"
"We are also mindful that there are going to be elections next March, and we believe it's in the interest of President Vladimir Putin to assure economic momentum remains intact ahead of the election"
TURKEY
Bolliger is long on the lira and equities, as the country is seen as a story of economic growth.

"We think the Turkish economy can sustainably grow at a rate of 4.5%/5%. There are not so many countries in EMEA which can deliver similarly high growth"
SAUDI ARABIA
Bolliger expects the Gulf state to be added to MSCI Inc's emerging markets list next year, with effective inclusion in 2019

"That is going help investors understand the region better. There is going to be more intelligence, more research done because of that inclusion. We see it as a great opportunity for the entire region"
"But, at the same time, it means policy makers are under a closer monitoring from international investors, which can also result in higher financial market volatility"
EGYPT
Overweight in credit, macro-picture seen as "a great story"

"Growth potential is high. The country has done several necessary adjustments, including its foreign exchange, and it presented a good economic program"
"There are some open issues, still, including access to electricity, red tape and a full free float of the currency"
— With assistance by Hussein Slim, and Yousef Gamal El-Din
Before it's here, it's on the Bloomberg Terminal.
LEARN MORE