BAE Gains Surprise Win for Typhoon Fighter Jet With Qatar Deal
By
Persian Gulf state adds to plane orders with France, U.S.

U.K. seeks to help security of 'all Gulf allies': Fallon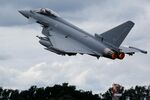 Qatar signed an initial order for 24 Eurofighter Typhoon combat jets from the U.K. in a surprise win for manufacturer BAE Systems Plc, as the newly isolated Persian Gulf state beefs up air defenses with the third contract placed with a NATO member in two years.
The deal, reached Sunday in the Qatari capital of Doha, marks the country's first major defense contract with Britain, U.K. Defense Secretary Michael Fallon said in a statement. At a price of 90 million pounds ($122 million) per plane plus further servicing work, the deal could be worth as much as 8.6 billion pounds for the three Eurofighter partners, based on estimates by analysts at UBS Group AG.
Qatari's government signed a memorandum of understanding with France in March 2016 to buy 24 Rafale jets from Dassault Aviation SA, and three months ago reached an agreement with the U.S. to purchase as many as 36 Boeing Co. F-15s. The sheikhdom's links to Iran have caused a split with fellow members of the Gulf Cooperation Council, with Saudi Arabia, the United Arab Emirates and Bahrain imposing diplomatic and economic sanctions, including airspace restrictions, in early June.
"The market was not expecting a Qatar order for Eurofighter," and the deal has the potential to boost value at main contractor BAE, analysts including Celine Fornaro at UBS wrote Monday in a report to clients. "It is not clear to us what Saudi Arabia's stance could be in the context of this order," since the kingdom is also a Typhoon customer at the London-based manufacturer.
BAE rose 2.9 percent to 613.5 pence as of 12:33 p.m. in London. The stock has gained 3.7 percent this year, valuing the manufacturer at 19.5 billion pounds ($26.5 billion).
The company said last month that it's again reviewing output of the Typhoon, which is the cornerstone of a military-aircraft business that employs about 12,500 people at BAE. The planemaker delivered the final four aircraft from an earlier Saudi contract in the first half, with the first two for an Omani deal for 12 planes already shipped.
Fallon said his government recognized that "the security of the GCC, of all Gulf countries, is critical to the U.K.'s own security," and that it hopes the Qatari deal will enable member states' Typhoon fleets to operate together, and the chance to "enhance security within the region across all Gulf allies."
In addition to BAE, the Eurofighter consortium includes Rome-based Leonardo SpA, and the German and Spanish divisions of Toulouse, France-based Airbus SE.
— With assistance by Benjamin D Katz
Before it's here, it's on the Bloomberg Terminal.
LEARN MORE