Macron Wants to Remind the World France Is a Nuclear Power Too
By
President says France can become a 'great power' with reforms

France already weighing in on North Korea, Syria, Libya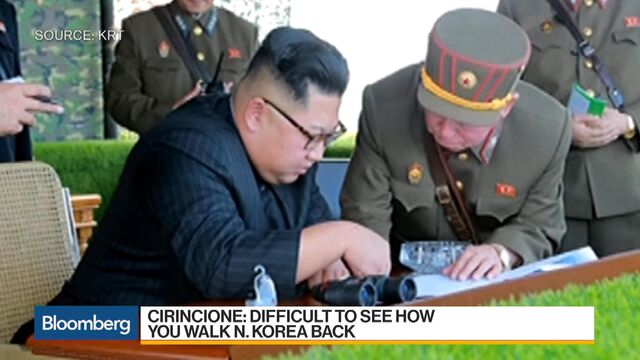 Follow @bpolitics for all the latest news, and sign up for our daily Balance of Power newsletter.
Emmanuel Macron is aiming to show France can still punch its weight.
After North Korea tested a nuclear weapon this month, the French President took time out of a state visit to Greece to lobby China's Xi Jinping on ratcheting up sanctions. He'd already spoken to the leaders of Germany, the U.K. and Italy on the issue and in August he discussed it with U.S. President Donald Trump. Within three days of the underground detonation, he was on the phone to assure South Korea's Moon Jae-in of France's support.
North Korea may be on the other side of the world and 8,000 kilometers away from the closest French territory, but that didn't stop the 39-year-old president from wanting to get involved. As the United Nations will hear when he addresses the General Assembly on Tuesday, Macron wants to be involved in everything.
With Trump's erratic behavior, Britain preoccupied with Brexit and Germany perennially lacking a serious military, there's a vacuum where the world has become used to seeing a western power take the lead on security. For Macron, who leads a nuclear-armed nation that is one of just five veto-wielding members of the UN Security Council, that represents an opportunity to re-establish France's traditional postwar position as a serious player.
"It's not just optics -- there's a void," said Nicholas Dungan, senior fellow at the Atlantic Council and a professor at Paris-based institute Sciences Po. "Macron is positioning to fill it."
Talk of Grandeur
While the president may have devoted most of his energy so far to the economy and the euro area, enhancing France's global standing is another part of his plan. He has sketched out the possibility of a virtual circle with a stronger economy, a more unified European Union and a more assertive global presence feeding into each other.
"France must become a great power, full stop," Macron said in an interview with Le Point magazine last month. "I accept this rhetoric of grandeur. But we can only play this role if we have the means. Without an economic and social transformation, you can forget grandeur."
After four months in office, Macron has already weighed in on crises from Qatar to Yemen and this week in New York he'll hold meetings about ongoing conflicts in Libya and Syria, which flooded the EU with refugees in 2015, opening rifts between member states and straining their commitment to open borders. Macron's advisers say in his UN speech he'll call for France to leverage its influence in a reinvigorated EU to shape global issues.
Previous French presidents weren't exactly wallflowers. Nicolas Sarkozy ordered French forces to oust Cote d'Ivoire strongman Laurent Gbagbo and then led an intervention in Libya, while Francois Hollande sent troops into Mali and the Central African Republic, bombed Islamic State and helped broker a cease-fire in Ukraine. But in Macron's view, they too easily accepted playing second fiddle to Germany or the U.S.
Syria Talks
Martin Quencez, senior program officer at the German Marshall Fund of the U.S., detects a more pragmatic approach from Macron than his predecessor Hollande, particularly in his acceptance that President Bashar al-Assad's exit is not a pre-requisite for peace talks in Syria. Indeed, Syria is one area where Macron's intervention might be productive in a conflict that involves a complex matrix of regional and global players like Russia's Vladimir Putin, who Macron hosted at the Chateau of Versailles in May.
"The U.S. under Trump has a strange client relationship with the Saudis, it doesn't talk to Iran and Turkey is going its own way. But they are all a part of any solution and France talks to all of them," Dungan said. "It was a success to have Putin at Versailles and tell him off."
Still, there are potential pitfalls for a former investment banker and economy minister launching into the geopolitical chess game with little direct experience.
A July 25 meeting with Libyan Prime Minister Fayez al-Sarraj and military leader Khalifa Haftar succeeded in riling Italy, which sees itself as pointguard on Libya, and North Africa experts puzzled at why Haftar was being granted such legitimacy by a founding member of NATO and the EU. Months later, the country remains split between Sarraj's government in the west and Haftar's militia in the east. Though that's not deterring Macron from his other initiatives.
Dinner in Paris
Perhaps nothing encapsulates his poise more than his handling of Trump.
While Macron led the global criticism of Trump's decision to quit the Paris climate accord in June, he then went out of his way to embrace the U.S. leader. On June 27 he called Trump to say France would join air strikes in Syria if Assad used chemical weapons and invited him to join the Bastille Day parade. The night before France's national celebration they had dinner at the Eiffel Tower. On Monday afternoon they'll meet again, one-on-one, in New York.
"He's marked a few points on Trump, making their disagreements on climate very clear, but then showing on July 14 how closely they can work together," Quencez said. "Macron's working relationship with Trump is a card to play."
Before it's here, it's on the Bloomberg Terminal.
LEARN MORE