Kinross to Invest $820 Million to Tread Water on Production
By
Mauritania mine to average 634,000 oz a year from 2020 to 2029

Shares fall with gold after announcement, paring gains in 2017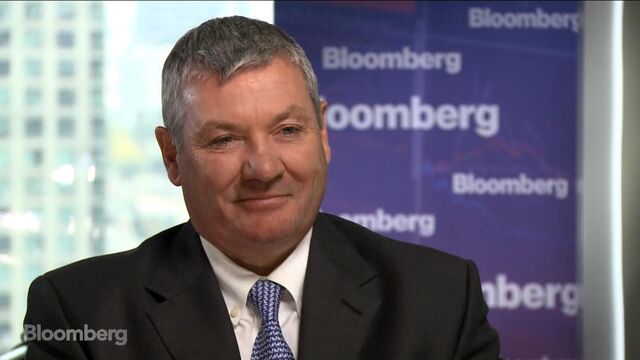 Kinross Gold Corp. is spending more than $800 million to essentially tread water as -- like many miners -- it faces a future in which new gold assets are increasingly difficult to find and costly to develop.
The Canadian miner said Monday it will move ahead with expansions at mines in Mauritania and Nevada as part of efforts to maintain its production and lower costs.
"I don't look at it as standing still," Chief Executive Officer Paul Rollinson said Monday in an interview with Bloomberg Television. "Top line production will be similar but the cash flow that's coming out of this asset will be dramatically different."
Construction for the Phase Two expansion of the Tasiast mine in Mauritania will begin early next year, Toronto-based Kinross said in a statement. The company also intends to re-invest in its Round Mountain mine in Nevada to extend its life by five years. Together, the two investments should stabilize Kinross's global production at about 2.5 million ounces a year, Rollinson said.
Around the world, gold miners have been scrambling to secure new production as existing mines approach the end of their lives. But with the low-hanging fruit already picked, and gold prices still far below the lofty heights seen five years ago, securing profitable new production is a struggle. Some in the industry believe output may not increase for years.
The Phase Two Tasiast expansion will bring the African mine's average annual production to 634,000 ounces for the 10-year life of the project, with commercial production expected to begin in 2020, Kinross said. Average all-in-sustaining costs in that period will be $720 an ounce with lower costs and higher output in the first five years.
Capital Costs
Initial plant and infrastructure capital costs for Phase Two will be about $590 million, less than the $620 million estimate in last year's pre-feasibility study. Meanwhile, an expansion of Round Mountain will require initial capital expenditures of $230 million. The so-called Phase W expansion will add five years to the Nevada mine's life, or 1.5 million ounces, at lower costs, the company said.
Kinross doubled-down on Round Mountain in 2015, buying the half of the mine it didn't already own from Toronto-based Barrick Gold Corp. as part of a bigger deal that allowed it to buy 100 percent of Barrick's Bald Mountain mine. At the time there were concerns the company had overpaid; Andrew Kaip, an analyst at BMO Capital Markets, valued the Nevada assets at $440 million, significantly less that the $610 million Kinross paid. Since then, the company has shown there was more value at Bald Mountain than analysts had identified, Kaip said by phone last week.
Kinross fell 5.8 percent to C$5.54 at 2:37 p.m., heading for the biggest loss since April 25, on a day when gold futures on the Comex in New York dropped 1.1 percent. The miner's shares have increased 33 percent this year, while gold has gained 14 percent.
'Looks Marginal'
The stock may have sold off because the Round Mountain expansion "looks marginal" at $1,200 an ounce of gold, Kaip said Monday by email.
In response, Rollinson said the company is comfortable with a 13 percent internal rate of return on Round Mountain at $1,200 gold, and noted that the IRR would be closer to 18 or 19 percent at current spot prices. "We've obviously accepted a lower hurdle in downtown Nevada, at an existing mine where we've been operating for over 20 years."
Tasiast, meanwhile, will have an IRR of 24 percent at $1,200 gold, he said. Rollinson believes the African deposit will become one of the company's best, redeeming a history of cost overruns and, more recently, a short shutdown at the site after the Ministry of Labor banned some expatriate workers saying their work permits were invalid. Kinross had taken more than $5.5 billion in writedowns on the asset, which it acquired as part of its purchase of Red Back Mining Inc. in 2010.
Phase One
Kinross said in Monday's statement that Tasiast's Phase One expansion is on time and on budget, with full commercial production expected in the second quarter of next year.
The miner said it maintains a "cooperative and constructive" relationship with the government and that the second phase of expansion will generate significant economic benefits for Mauritania. The country's Minister of Petroleum, Energy & Mines is quoted in the statement saying the government supports the expansion.
The big question for investors continues to be the extent to which Kinross can stem or compensate for production declines, Kaip said.
Although the company would be willing to buy another asset if the right opportunity came along, Rollinson said, "We're in that happy place where we don't feel we need to do M&A."
"All mining companies are depleting asset businesses and it's pretty simple: you either find it through exploration or you buy it. The good news here is we've got organic opportunities within our own wheel set."
Quotes from this Article
Before it's here, it's on the Bloomberg Terminal.
LEARN MORE