Johnson to Challenge May Over U.K. Brexit Bill, Telegraph Says
By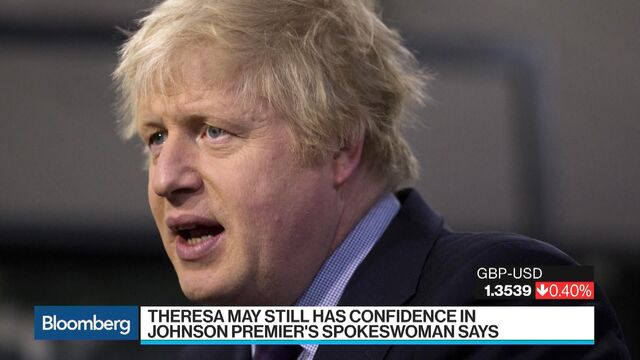 U.K. Foreign Secretary Boris Johnson will this week ask Prime Minister Theresa May for assurances she won't keep up substantial payments to the European Union during a transition period and could resign if she doesn't meet his demands, the Telegraph said.
May and Johnson will meet later this week in New York where they will both be attending the United Nations General Assembly. He will ask her what commitments she is prepared to make in her speech on Brexit in Florence later this week, and seek guarantees she won't pledge to keep up payments of up to 10 billion pounds ($13.6 billion) a year to the bloc during a transition that could last up to three years, the newspaper said, without saying where it got the information.
Johnson on Saturday published a 4,000-word essay about his "glorious" vision for post-Brexit Britain in the Tory-supporting newspaper. While May's office didn't approve the piece, First Secretary of State Damian Green said the foreign secretary wouldn't be fired because of it. Johnson has since said he backs May, though his possible resignation could spark another leadership contest.
The crux of the dispute is whether the U.K. should pay to access Europe's single market for goods and services after Brexit, an idea suggested as possible by Chancellor of the Exchequer Philip Hammond and Brexit Secretary David Davis. Johnson on Saturday also revived the much-criticized claim that Brexit will free up as much as 350 million pounds a week to spend on health care -- an assertion for which he has since been upbraided by the chief of Britain's statistics watchdog.
Before it's here, it's on the Bloomberg Terminal.
LEARN MORE