Johnson Taunts May by Refusing to Say If He'll Quit Over Brexit
By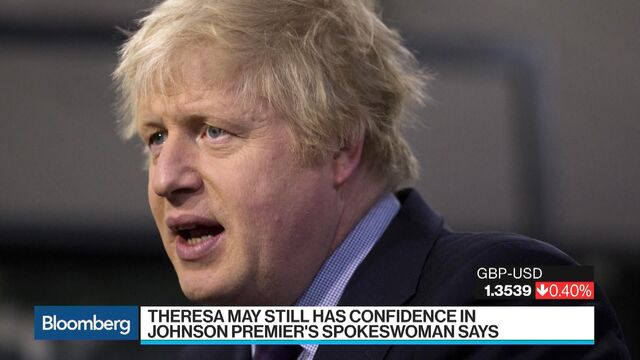 As his row with U.K. Prime Minister Theresa May over Brexit escalated, Boris Johnson was ready to contemplate the end of his career as Foreign Secretary, though he stopped short of threatening to quit.
"When the burden of office is lifted from my shoulders I will of course look back with great pride on my time doing all sorts of things," Johnson said after he was asked if he would miss his job when it's over.
His look into the future came after he stepped up the pressure on May to deliver a Brexit deal that fitted with his own vision.
He said in a pooled TV interview in New York that a transition deal "shouldn't be too long" and payments to the EU budget should be limited to the "short term."
Does this mean no payments at all after the transition period is over? "As the prime minister has rightly said, we don't want to be paying into the EU after we leave -- we certainly don't want to be paying extortionate sums for access to the single market," Johnson said.
He pointed out that he led the campaign for Brexit in last year's referendum and now "people want to know where we are going." Hardly a ringing endorsement of his boss's Brexit road map. 
Asked if he would quit if he doesn't get his way, Johnson replied: "I think, if I may say, you may be barking slightly up the wrong tree."
Before it's here, it's on the Bloomberg Terminal.
LEARN MORE