Iceland's PM Hopes to Emerge Stronger After Government Collapse
By
Premier moves to dissolve parliament, election set for Oct. 28

Iceland to hold second snap election in about a year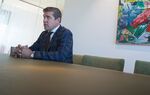 Iceland's acting Prime Minister Bjarni Benediktsson is banking on emerging stronger as he called for a snap election late next month after his government collapsed amid scandal over giving clemency to convicted child molesters. 
The leader of the Independence Party, Iceland's dominant political force, on Monday received approval from the president to dissolve the current parliament and hold an election already on Oct. 28. 
The premier is gambling on voter fatigue after nearly a decade of constant crisis and attacked the fractured nature of Iceland's parliament. The three-party coalition that collapsed on Friday was Iceland's shortest-serving majority government in its seven decades of independence.
"I have given it my best," the premier said at a press conference at Bessastadir, the president's residence outside of Reykjavik. "One of the coalition parties talks about a breech of trust, the chairman of the other party doesn't experience a breech of trust. This is a situation one doesn't control. I feel the small party system has revealed a great deal of flaws in this example."
Read more on government scandal here
The coalition that fell had only a one-seat majority in parliament, and was cobbled together earlier this year after long negotiations. Iceland's previous government unraveled when then Prime Minister Sigmundur David Gunnlaugsson became the most high-profile casualty of the so-called Panama Papers.
Benediktsson, who was finance minister in the prior government, was able to withstand a challenge from the Pirate Party in last year's election to remain in power and his quick move to call an election is now being questioned.
"I am pretty sure those who think the Independence Party will weaken much in the long run will be very disappointed," Birgitta Jónsdóttir, a Pirate Party official, said on her Facebook page on Monday.
A poll from Gallup that canvassed voters from Aug. 10-30 showed the Independence Party winning 26.3 percent of the vote and the Left Green's in second at 19.5 percent. The Pirate Party polled at 13.1 percent, ahead of the Progressives at 10.8 percent and the new People's Party at 10.6 percent.
Benediktsson's coalition partners, the Reform Party and a Bright Future, were backed by 4.8 percent and 2.8 percent, respectively.
Before it's here, it's on the Bloomberg Terminal.
LEARN MORE