markets
South Korea's Markets to Take the Longest Holiday in Decades
By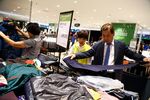 If Kim Jong-Un were to test another missile the weekend after next, investors would have to wait another six trading days to gauge the full reaction in South Korea's financial markets.
President Moon Jae-In has designated what is effectively an extension of the country's Chuseok holiday period, with markets to be shuttered during the Sept. 30 to Oct. 9 break, South Korea's longest in more than three decades. Tensions with their northern neighbor may be near boiling point, but that's not going to stop South Koreans from some "rest and comfort" -- as Moon put it in his official statement -- as well as a bit of shopping.
Moon hopes the lengthened holiday will turbocharge consumption, providing a boost to the economy akin to China's Golden Week or Premium Friday in Japan. But while the impact may be diminished by South Koreans traveling abroad, it should still be positive, says Jingyi Pan, a market strategist at IG Asia Pte Ltd.

Before it's here, it's on the Bloomberg Terminal.
LEARN MORE