Five Things You Need to Know to Start Your Day
Get caught up on what's moving markets in Asia.
By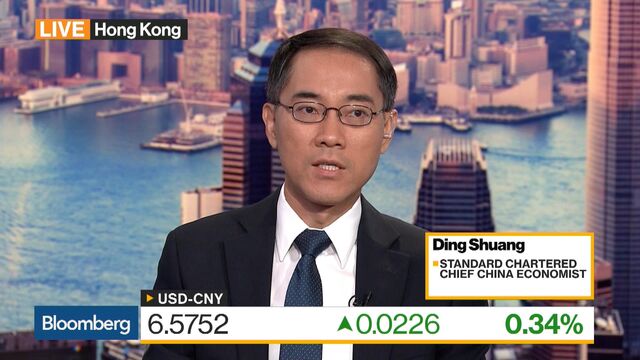 Want to receive this post in your inbox every morning? Sign up here.
China considers financial liberalization, Trump to speak to United Nations, and banks push U.S. stocks to fresh records. Here are some of the things people in markets are talking about.
Reform With Chinese Characteristics
The People's Bank of China is holding a meeting on Tuesday to discuss a preliminary plan of sweeping financial liberalization measures with other stakeholders, according to people familiar with the matter. This draft proposal adds to evidence, after the central bank's move to make it less expensive to short the yuan, that China is loosening capital controls and opening up its financial sector – offering a hint at what's to come once the 19th Communist Party Congress has passed. The yuan's strong performance amid resilience in the world's second-largest economy has caused outflow pressures to ebb, but mainland bank clients continue to prefer foreign currencies. The nation's holdings of U.S. Treasuries also rose for a sixth straight month in July.
United We Stand?
U.S. President Donald Trump is slated to ask world leaders to stand with America in opposition to North Korea and Iran's nuclear ambitions. In a phone conversation with his Chinese counterpart, Xi Jinping, both agreed on the need to be "maximizing pressure" on North Korea, according to the White House. Trump will address the United Nations General Assembly on Tuesday for the first time, with European leaders looking for him to recommit to the Iran nuclear deal struck by his predecessor. On Monday, the president said the world will "see very soon" whether the U.S. will withdraw from the agreement.
2,500
The S&P 500 Index held its round-number milestone in closing at a fresh record on Monday, with financial stocks leading the way higher. The CBOE Volatility Index, known as the VIX, or fear gauge, hit single digits for the first time in over a month as investors unwound insurance held over the weekend. Morgan Stanley strategists believe the strong run for equities portends a better-than-expected third-quarter earnings season, kicking off in a month. 10-year Treasury yields climbed to their highest level in more than a month, the Bloomberg Dollar Spot Index rose, and bitcoin bounced back with a vengeance. West Texas Intermediate failed to hold above $50 per barrel.
Futures Up
Nikkei 225 and S&P/ASX 200 futures are trading in positive territory ahead of the open after the MSCI Asia Pacific Index ex-Japan posted its best day in two months to start the week. It's a relatively light day for economic data, headlined by two releases from Australia: the minutes of the central bank's September meeting, at which rates were held at record lows, and the second-quarter home price index, projected to show that the pace of appreciation decelerated to 1.3 percent quarter-on-quarter.
Repeal and Replace, Redux
Republican lawmakers are making a last, last last-ditch effort to repeal and replace the Affordable Care Act after earlier attempts failed. Arizona Senator John McCain, whose vote was pivotal in defeating the "skinny repeal" bill, is withholding his support for the Graham-Cassidy plan for now; Kentucky Senator Rand Paul has said he won't support it. Democrats have tentatively warmed to a Medicare-for-all bill introduced by independent Vermont Senator Bernie Sanders, with several potential 2020 presidential nominees co-sponsoring the legislation. Shares of hospitals and health insurers, which may experience a hit to earnings if Obamacare is repealed, declined on Monday. The Republicans have until September 30 to pass a health care reform with a simple majority in the Senate. After that, 60 votes, and therefore support from some Democratic lawmakers, would be required.
What we've been reading
This is what caught our eye over the last 24 hours.
Before it's here, it's on the Bloomberg Terminal.
LEARN MORE