China Increases U.S. Treasury Holdings to Almost One-Year High
By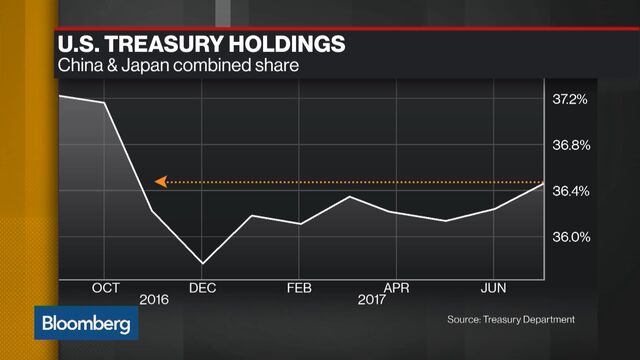 China increased its holdings of U.S. Treasuries to the most in almost a year, an indication that government policies helped curb capital flight.
China's holdings of U.S. bonds, notes and bills rose for the sixth straight month by to $1.17 trillion in July, an increase of $19.5 billion from a month earlier, according to Treasury Department data released Monday in Washington. Japan owned $1.11 trillion, up by $22.3 billion from June, marking the biggest gain in almost four years.
China in June regained its position as the largest foreign holder of U.S. Treasuries. Japan had held the spot for eight months.
The two countries account for more than a third of all foreign ownership of Treasuries, which gained by $78.7 billion to $6.25 trillion in July, the figures showed. That brings foreign investors' holdings of U.S. Treasuries to the highest since June 2016.
China's foreign-exchange reserves increased for a seventh month in August to $3.09 trillion. China's capital outflows have eased amid tighter controls, helping steady the currency, which has climbed about 6 percent this year after weakening 7 percent in 2017. The country's central bank last week effectively removed a reserve requirement that may slow the pace of yuan appreciation.
Belgium's ownership of Treasuries, often seen as a home to China's custodial accounts, rose to $99.4 billion in July from $98.3 billion.
The Treasury report, which also contains data on international capital flows, showed a net inflow into the U.S. long-term securities of $1.3 billion from $34.4 billion in June. It showed a total cross-border outflow, including short-term securities such as Treasury bills and stock swaps, of $7.3 billion following inflows totaling $5.9 billion the prior month.
Foreigners were net sellers of $7.7 billion of U.S. stocks, compared with net selling of $4.5 billion in June.
— With assistance by Katherine Greifeld, and Agnel Philip
Quotes from this Article
Before it's here, it's on the Bloomberg Terminal.
LEARN MORE