Chicago Puts Millions of Deposits Into Its Last Black-Owned Bank
By
Once numerous, such lenders have dwindled in recent decades

City treasurer says institutions should support firms' mission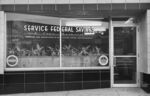 Chicago is pumping deposits into the last black-owned bank based in the city, bolstering a lender that began in the Great Depression, as officials join a nationwide movement to steer idle funds to underserved communities.
The third-largest U.S. metropolis is entrusting $20 million to Illinois Service Federal Savings & Loan Association, the city's treasurer, Kurt Summers, announced Monday. The decision follows a grass-roots campaign, often dubbed #BankBlack, that has urged consumers over the past year to park their money at black-owned lenders. Institutions such as municipalities should take part too, Summers said in an interview. 
"If we're going to be serious about supporting those communities and supporting community banks and what they do for small businesses, we have to look for opportunities like this," he said.
Black-owned banks proliferated after the Civil War and through Jim Crow segregation to counter discriminatory lending practices once deeply entrenched in mainstream banking. But their numbers have since dwindled from more than 100 to just a few dozen. And after an era of rapid financial-industry consolidation, many cities simply park their money with the giant firms that remain.
Disappearing Lenders
At least 10 black-owned lenders have shut in the past few years, according to Jesse Van Tol, chief operating officer at the National Community Reinvestment Coalition. That includes the only other black-owned bank based in Chicago, Seaway Bank & Trust, which was closed by the Federal Deposit Insurance Corp. and sold earlier this year.
Those that remain are relatively small, with none holding more than $1 billion, a key threshold in the industry, Van Tol said. Yet, even as underdogs, they're still relevant.
The institutions focus their financial resources on black communities and are thought to be more equitable and fair to minority clients, he said. Research shows that black and Hispanic borrowers still face extra challenges in getting loans to buy homes, one of the largest factors to building wealth in the U.S.
"Banking while black in this country is still a hazard," he said.
'Much-Needed Boost'
Illinois Service Federal, located in Chicago's historically black Bronzeville neighborhood, was founded by 13 men in 1934 as a source of financing for the city's residents in largely segregated and less affluent neighborhoods. Summers grew up just blocks from its headquarters.
The bank has faced challenges in recent years. In 2015, the Office of the Comptroller of the Currency told the bank to raise more capital or risk being shut down. The firm has shored up its funds under new owners and now meets requirements for the city to invest in it, according to the treasurer's office. The changes made "speak volumes to the potential and future of this bank," Summers said.
The deposit provides a "much-needed boost to our financial foundation, ensuring that we can strengthen the economic base of our communities and help people fulfill their dreams," the bank's chairman, Papa Kwesi Nduom, said in a statement.
That means more financial services in neighborhoods on the city's south and west sides, historically home to majority-black populations, according to Phillip Beckham, executive director of Mid South Business Association and Resource Center.
"Almost every day, I hear about the need for increased access to capital for our small business owners and entrepreneurs," he said in a statement. The deposit will enable "us to develop our homes, our businesses and our neighborhoods."
Before it's here, it's on the Bloomberg Terminal.
LEARN MORE