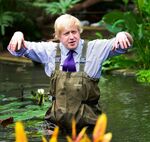 When British politician Boris Johnson moved against his old Etonian schoolmate David Cameron by supporting Brexit last year, financial markets took fright. A year on, the terminally ambitious foreign secretary is taking potshots at another prime minister, Theresa May, setting out his own rival vision of a "glorious" Brexit.
Yet markets are unruffled this time and the pound is on a tear. Some believe the economic outlook is looking a little brighter, with interest rates set to rise. May is still clinging to power after a disastrous June election and her Brexit laws are being approved. In the Anglo-Saxon world of deep electoral shocks, this is what stability looks like.

But there's a real danger that investors are under-pricing U.K. political risk. The pound's recent bounce is vulnerable to car crashes on the road to Brexit—made almost inevitable by the barely contained divisions within a severely hobbled government.
The critical question for business is straightforward but so far unanswerable: What kind of relationship will Britain salvage with its biggest trading partner (the European Union)?
A hard-line position like Johnson's wouldn't help. Talks between Britain and the EU have already dragged, even with a softer approach from May's government since her ballot-box humiliation. The probable re-election of Angela Merkel as German Chancellor will strengthen the Brussels position on sticking points such as Britain's payment of a Brexit bill. If the Johnson view of the world prevailed—he's said Brussels should "go whistle" over the bill— and British voices touting a "no-deal" Brexit make a comeback, talks could break down easily. 
A cliff-edge exit could see the pound fall well below 1.20 against the dollar, according to HSBC. 

Johnson's star may have waned since the referendum, but his salvo reminds investors that no-one knows how long May can survive. She's trying to be more business-friendly, recently leading a delegation to Japan. Her support for an EU transition deal is in line with CEOs, who want to keep the status quo for several years.
If she were pushed out, it's hard to see how that benefits markets. You could end up with Johnson pushing for a much quicker transition or the Tories might be snapped in two by their own internal contradictions, opening the door to Labour leader Jeremy Corbyn—an old-school socialist, though one who's making his own overtures to business.

It's not as if the financial foundations are rock solid. An improving economy attracts capital and is usually good for political incumbents. But real wages aren't growing and consumer spending is being squeezed. There's still the sense of an economy running out of steam, not one preparing for a fresh spurt of energy, according to Nicholas Brooks at asset manager Intermediate Capital Group. A poorly handled interest rate rise or disappointing growth would make May even weaker.
The U.K. is in uncharted territory. Markets would be much harsher if this were a euro zone country, reckons Bluebay's Mark Bathgate. Considering the sheer uncertainty, it's strange that investors are this relaxed.
Before it's here, it's on the Bloomberg Terminal.
LEARN MORE