Batistas Keep JBS a Family Affair as Investor Pressure Rises
By , , and
JBS shareholder BNDES trying to overturn appoinment of new CEO

Previous JBS boss said to have resisted an external successor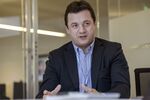 One of the richest families in Brazil is clinging on to power at scandal-hit JBS SA as pressure mounts from the company's second-largest shareholder, state development bank BNDES.
JBS, the world's largest meat producer, has been engulfed by a corruption scandal in recent months that left two of the Batista clan in jail including the company's chief executive officer. The JBS board voted at the weekend to appoint 84-year-old family patriarch Jose Batista Sobrinho, the company's founder and vice-chairman, as its new CEO, replacing his son Wesley Batista, who was arrested last week amid allegations of insider trading.
While BNDES's representative on the JBS board voted in favor of the change, on Monday the bank pushed back against the appointment. BNDES said its CEO, Paulo Rabello de Castro, who has previously attempted to oust the Batistas from the JBS board, asked his legal team to seek arbitration with securities regulator CVM to overturn the management change.
In interviews with various media, Castro was quoted as saying the JBS board meeting was an "act of trickery" held "in the dead of night," and that the company's corporate governance isn't adequate. Responding to Castro in an open letter, JBS said Tuesday that his comments contained serious allegations and inappropriate language and were "unacceptable" and subject to legal "consequences."
The Batistas, who own 42 percent of Sao Paulo-based JBS, are determined to keep their grip. Even before going to jail last week, Wesley Batista resisted the idea of an outside executive replacing him, said people with direct knowledge of the matter, who asked not to be named because the internal deliberations at JBS were private. He was convinced his successor should be chosen from among the ranks of current executives, avoiding a radical shakeup like that seen at Brazilian arch-rival BRF SA, the people said. JBS declined to comment on the discussions.
'Difficult Spot'
Wesley Batista Filho, 26, the son of the now-jailed CEO, was considered by the family as a potential candidate for the top job, but his youth eventually counted against him, the people said. Still, he will be part of a committee formed to advise his grandfather, and will become a director, the company announced Sunday. Aguinaldo Ramos Filho, another family member, will take Wesley Batista's place on the board.
JBS shares dropped 4 percent in Sao Paulo on Monday and fell again by as much as 1.9 percent Tuesday, erasing some of the gains last week, when they advanced amid speculation JBS may choose a senior manager as its next leader.
"A lot of people didn't like" the appointment of Batista Sobrinho and "would have preferred a professional executive leading the company," said Alvaro Bandeira, chief economist at Modalmais, Banco Modal's brokerage arm. "The company is in a difficult spot, having to sell assets, reduce leverage and without two of its main executives."
JBS said late Monday it had named Gilberto Tomazoni -- who was seen as a candidate for the top post -- to the new position of chief operating officer. Wesley Batista Filho, meanwhile, will lead JBS's business in South America under Tomazoni. The new management structure will allow it to deliver stronger results, the company said in an emailed statement.
Ze Mineiro, as Batista Sobrinho is known in Brazil, founded the company that bears his initials after settling in Brasilia in 1957, where he established his business by feeding the construction crews working to build the nation's new capital. JBS became a Brazilian national champion under the leadership of Wesley Batista and his brother Joesley, who embarked on a run of acquisitions that included U.S. poultry producer Pilgrim's Pride Corp. They had recently sought a New York share listing for JBS.
CFO Search
The plea deal signed by the two brothers with Brazilian prosecutors earlier this year had them admit to a decade-old corruption scheme. The revelations of bribes paid to hundreds of politicians set off a crisis that threatened to topple the government, and put the company at odds with BNDES.
BNDES said Monday it named Cledorvino Belini, a former president at Fiat Chrysler for Latin America, and Roberto Penteado de Camargo Ticoulat as its new representatives on JBS's board, replacing Maurício Luchetti and Claudia de Azeredo Santos, who both resigned. Meanwhile, JBS said it's looking for a new chief financial officer, something that BNDES has demanded.
Before it's here, it's on the Bloomberg Terminal.
LEARN MORE