Style
Twelve Pairs of Boots to Get You From Fall to Winter
No matter what you prefer, there's one boot that will fit your style.
By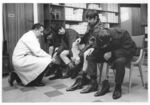 It wasn't all that long ago that Senator Marco Rubio endured a thorough teasing for daring to descend from his campaign bus in a pair of Florsheim's ankle boots that came with a height-boosting Cuban heel. This fall—with everything very mellow on the current-events front and Washington as tranquil as ever—one wonders whether the Florida Republican was, in fact, a trendsetter. 
Ankle boots are all the rage now, and the most fashion-forward among us find themselves leaning in the senator's direction. Witness how Raf Simons, via his Calvin Klein 205 W39 NYC line, has crossed cowboy boots with the Chelsea style, hammering on a 40-millimeter (1.5-inch) heel and sticking a silver plate on the toe to arrive at a style that complements his arch approach to Americana.
Similarly, Balenciaga has brought the harness boot—familiar to anyone who's seen a Harley-Davidson motorcycle owner—down to an ankle-boot length while leaving its two-inch heel intact. Fashioned in tobacco-brown suede, the boot is tough yet approachable, and the extra stature added by the heel elevates the wearer well above mockery.
But the men's ankle boot is also currently thriving in more down-to-earth versions. A little rebellious, this is footwear that fits both the paramilitary and semi-Western moments that casual menswear continues to enjoy, pairing perfectly with bomber jackets or trucker jackets, depending on its style. The ones now on the market include many that'll look sharp emerging from suit trousers.
The Chelsea

The reigning champion in this arena is the Chelsea boot. Though it originated in Victorian England, the Chelsea—distinguished by its elastic side panels—owes its name to an association with the mods and rockers of Swinging London. Therefore, it also does business as "the Beatle boot."
A. Testoni, for example, is now offering a pair of "faded leather Beatles" made with coffee-colored calfskin and spiffed up with a few lines of perforation that imitate a toe cap and contouring. Should that minimal approach to perforation be too subdued for your tastes, look into a brogue Chelsea of the sort sold by Ferragamo, with its quiet riot of detailing that flows from toe to heel.
Or to go the other way, I'd suggest Christian Louboutin, to the surprise of many. The designer is best known for red-soled women's shoes, and its men's shoes are generally so gaudy that it's impossible to appreciate the excellence of their construction, what with all the crests and studs and leopard-print. Nonetheless, Louboutin's Roadie model is an exemplar of Chelsea-boot sleekness, with a tall shaft that heightens its rakish appeal.
The Lace-Up

A lot of mainstream ankle-boot action, though, consists of lace-up boots in a heritage vein. Red Wing Heritage—consistently a favorite of people we'll have to call hipsters—is now selling a model, called the Sheldon, that's been slimmed down so that it has a place in Manhattan offices, as well as in Austin rock clubs. Other brands are playing the same game, striking a balance between rubber-soled ruggedness and dressy-uppers elegance.
Quite a few, including Cheaney, are clearly hoping for a comeback of the two-toned Balmoral boot. Clarks, most famous for its chukka boot, just introduced a model called the Trace Dusk that combines suede and apple-tanned leather, playing soft sophistication off weather-ready hardiness. 
The Jodhpur
But the low boot stepping to the fore most quickly might be the jodhpur, with its distinctive buckle and distinguished equestrian pedigree. (On the earliest jodhpurs, worn by Indian polo players in the 1920s, the buckle and strap were always functional; after England imported the style, the functionality became optional.) Old British shoemakers, such as Crockett & Jones, craft them with the same traditional elegance as ever; the great French fashion houses, including Saint Laurent, are now making them prolifically and with a new sense of chic. 
The best jodhpur for your money might be produced by a three-year-old boutique brand called Lareymondie. Its founder, Maylis de Lacoste Lareymondie, is a Manhattan-based Frenchwoman of aristocratic background. She creates designs executed by shoemakers with an Hermès pedigree, having begun the business after a girlhood as an equestrienne and then a Wall Street career in volatility trading.
Lareymondie makes Chelsea boots and lace-ups as well, but its founder articulates the special charm that her jodhpurs, with their matte-silver buckles, hold for the business class: "Men love it because you can put your suit pants on the top, and when you cross your legs, there's the buckle"—shining like a low-key statement of personal style.
Before it's here, it's on the Bloomberg Terminal.
LEARN MORE